Nordfjord Taste
Food and food experiences in Nordfjord are about much more than just a meal. They involve an amazing journey in a region where food and culture have gone hand in hand for generations.
The wonderful taste of local craftsmanship 
What do places you visit taste like? Do they taste better when made from ingredients found on fertile, steep hillsides and among towering mountains? Is the fish better for you because it swims in the clean waters of the fjord, and does salmon taste better since it has swum against the current in a salmon river filled with clear glacial meltwater? Can you really taste the quality of authentic ingredients? We know the answer because we know what food that has been made with love and honesty tastes like. Come to Nordfjord and let us show you how and why Nordfjord Taste, with its long list of proud members, ensures that food has a short route from the fjords and land to the dining table. Let us show you why our guests keep coming back, because they have developed a taste for Nordfjord.
Where the best food comes from
We have made it easier to buy local fare when you visit Nordfjord. We have also made letting our guests see how the delicious food is made become a proud tradition. Either by visiting one of the pasture farms that produces goat cheese in the old way, like at Kandal Ysteri og Gardsmat in Kandalen, or by visiting Gardsbrenneriet in Gloppen to see the small apple tree saplings in the greenhouse that end up producing the best apple cider in Norway. 
Or by joining a hunt for deer in Breim or grouse in the Hjelmelandsdalen valley. Fishing enthusiasts will probably prefer the 'trout trail' from Oppstrynsvatnet, Oldevatnet and Lovatnet lakes in Stryn to Traudalsvatnet lake in Gloppen. Some hope to catch a large salmon in Eidselva before heading for Knutholmen, in the beautiful fishing village Kalvåg, to help pull in nets containing delicacies from the sea.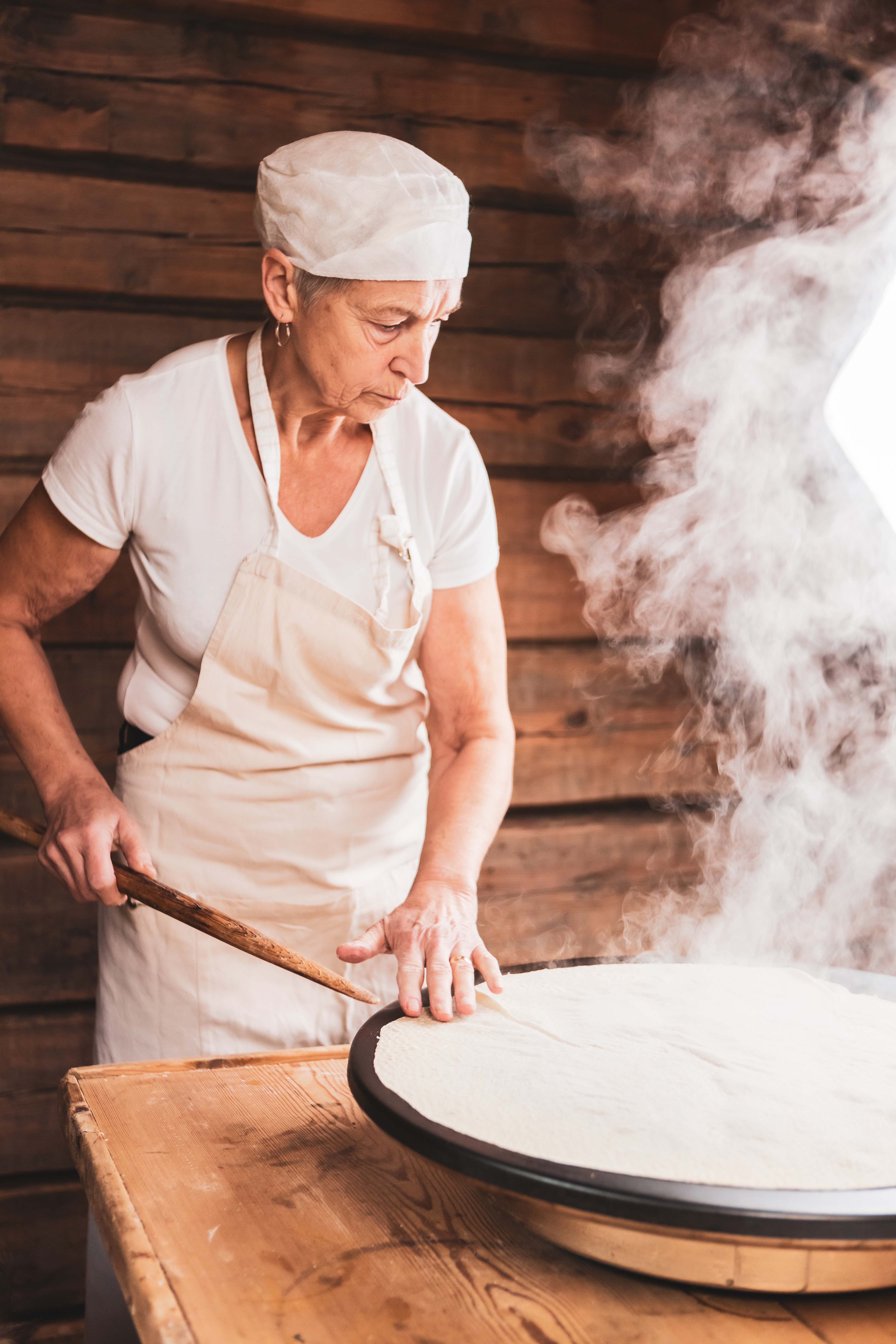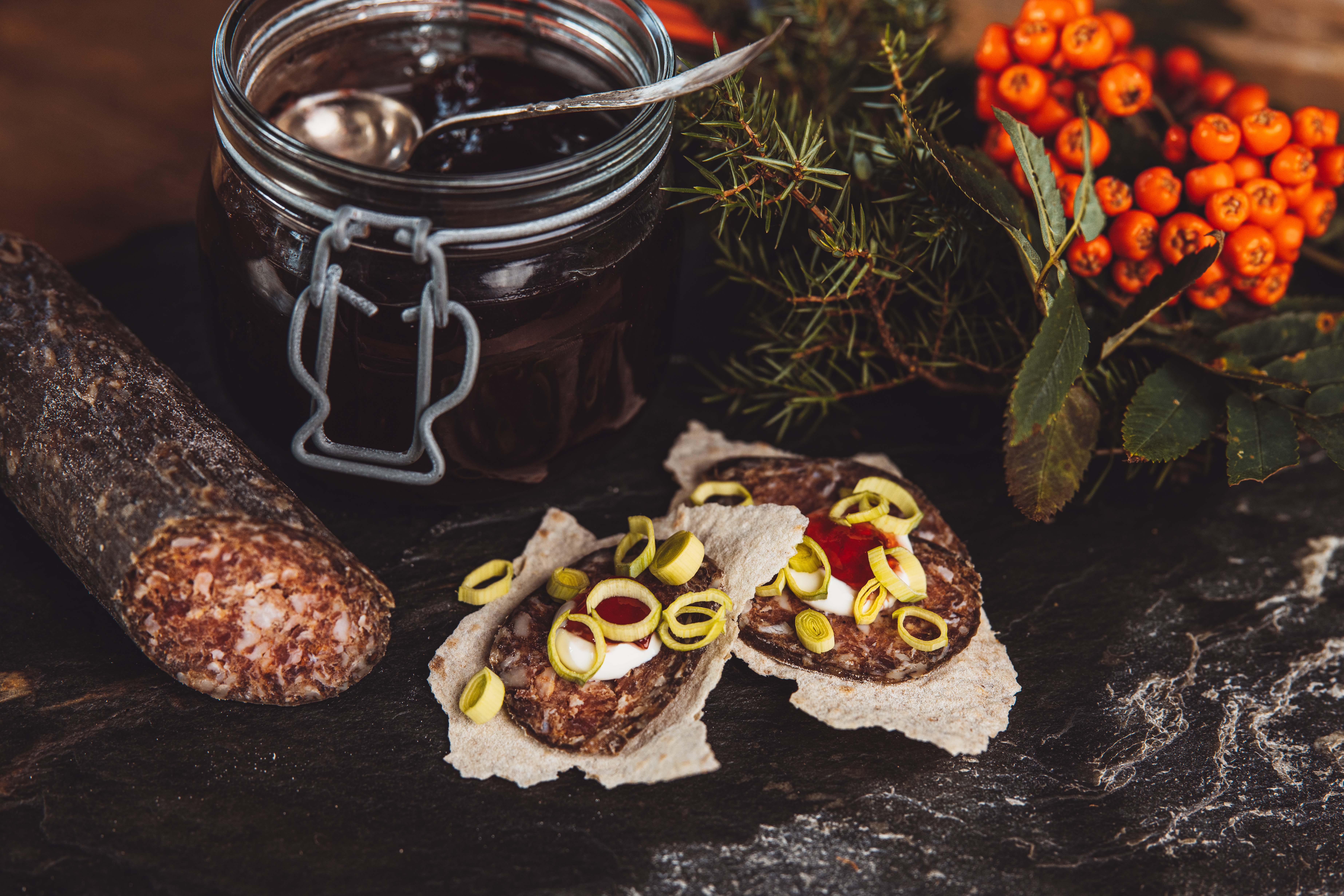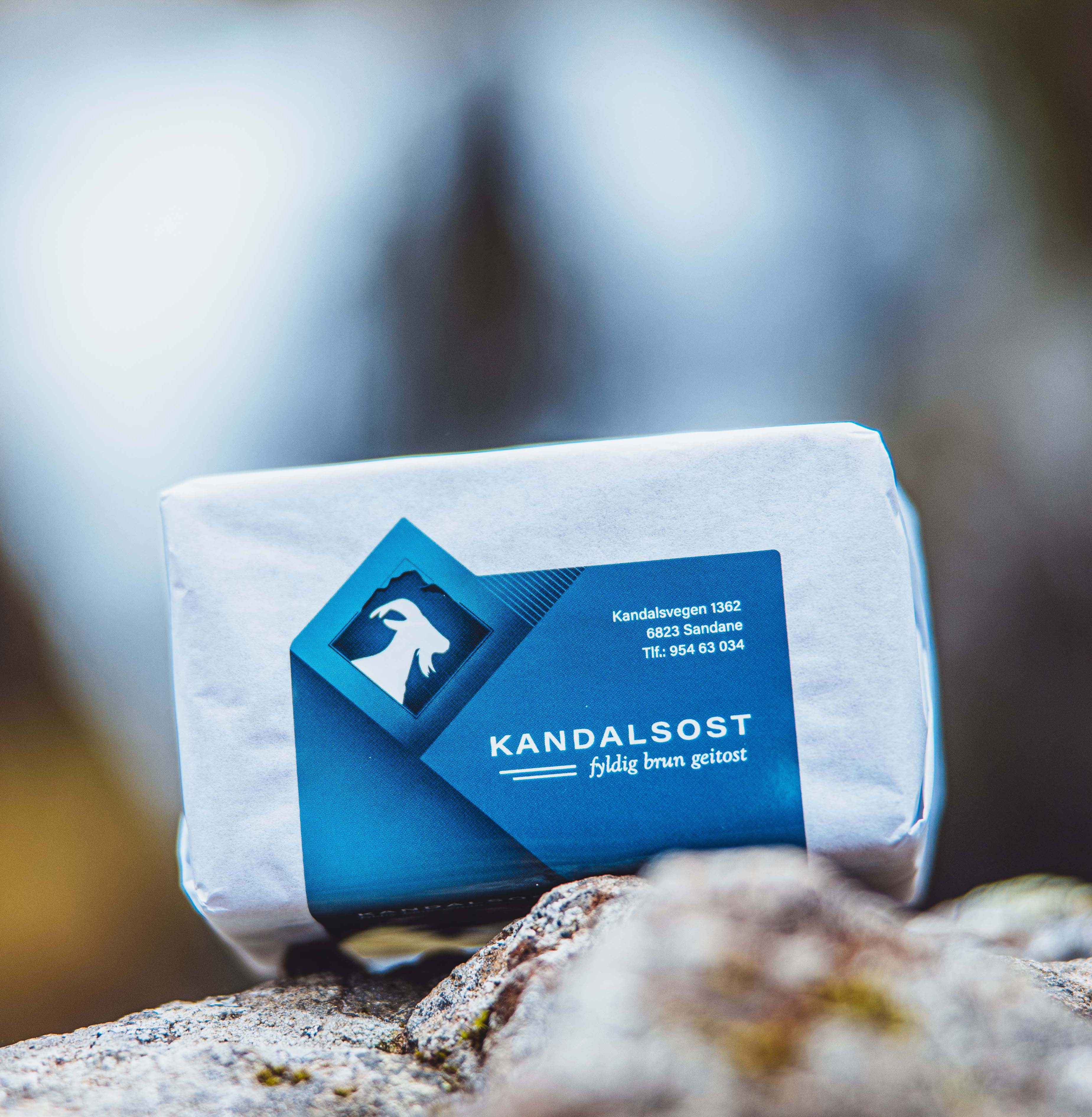 Local food in every dish
Producing the best local food for their family, locals and visitors has been a proud tradition in Nordfjord for hundreds of years. And so it will continue. The old traditions will continue to bear fruit – quite literally.
The fjord landscape of Western Norway abounds with ingredients, and thanks to excellent collaboration between producers and restaurants etc., our guests can enjoy award-winning food and drink all year. We recognise the value of preserving our food culture and we are delighted to serve up our local identity, great stories and our unique cultural heritage. All done by people with pride in what they do.
Foto: Kandalost fra Kandal Ysteri og Gardsmat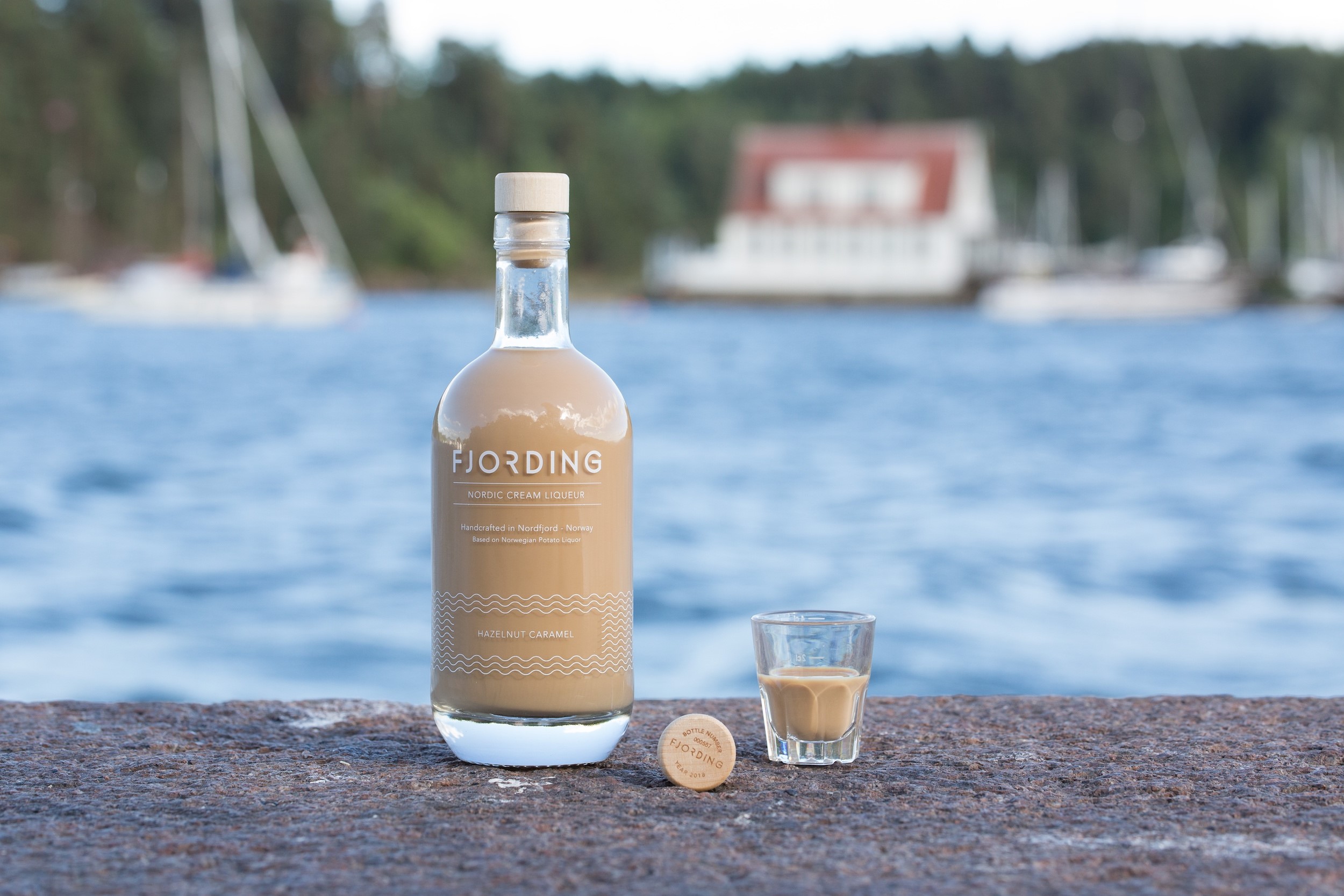 Foto: Fjording Hazelnut Caramel 
Where culinary experiences meet
The brand Nordfjord Taste has gathered local food and drink experiences to enable you to go on food journeys across beautiful Nordfjord. Local food is available in the grocery shops, at markets and in the cafés and restaurants. And many of the producers also have their own outlets. Bakar-Jon in Byrkjelo has been a regular haunt for locals and visitors alike for many years. It has one of the biggest ranges of local food in the region. Another gem can be found beside the Rv 15 road, on the eastern side of Oppstrynsvatnet lake: Gamlebutikken på Hjelle. In an old shop dating from 1882, the cuisines of England and Nordfjord meet, and make for a great experience you won't forget in a hurry!
Pleasure in jars and bottles
If you visit Nordfjord in May and June, you'll get to see the wonderful fruit trees and berry bushes in blossom. Fine summer days will soon pave the way for excellent, new flavours. They forebear the crisp autumn days when fruit and berry producers can harvest their world-class produce. More and more of this fruit is processed locally, to the delight of the region's eateries, and you'll also find cordial, cider, local beer, fruit juice, jelly and jam with the taste of Nordfjord in shops. Påldtun frukt og bær, Gardsbrenneriet and Aabrekk Gard are just a few of the companies in the region that offer locally-produced food and drink made from fruit and berries. In autumn, Nordfjord is also a very popular place for deer hunting. The deer in the region graze in the green forests and on the hillsides around the fjord and lakes, which is evident in the delicious flavour of game dishes served in good company and accompanied by delicious local drinks.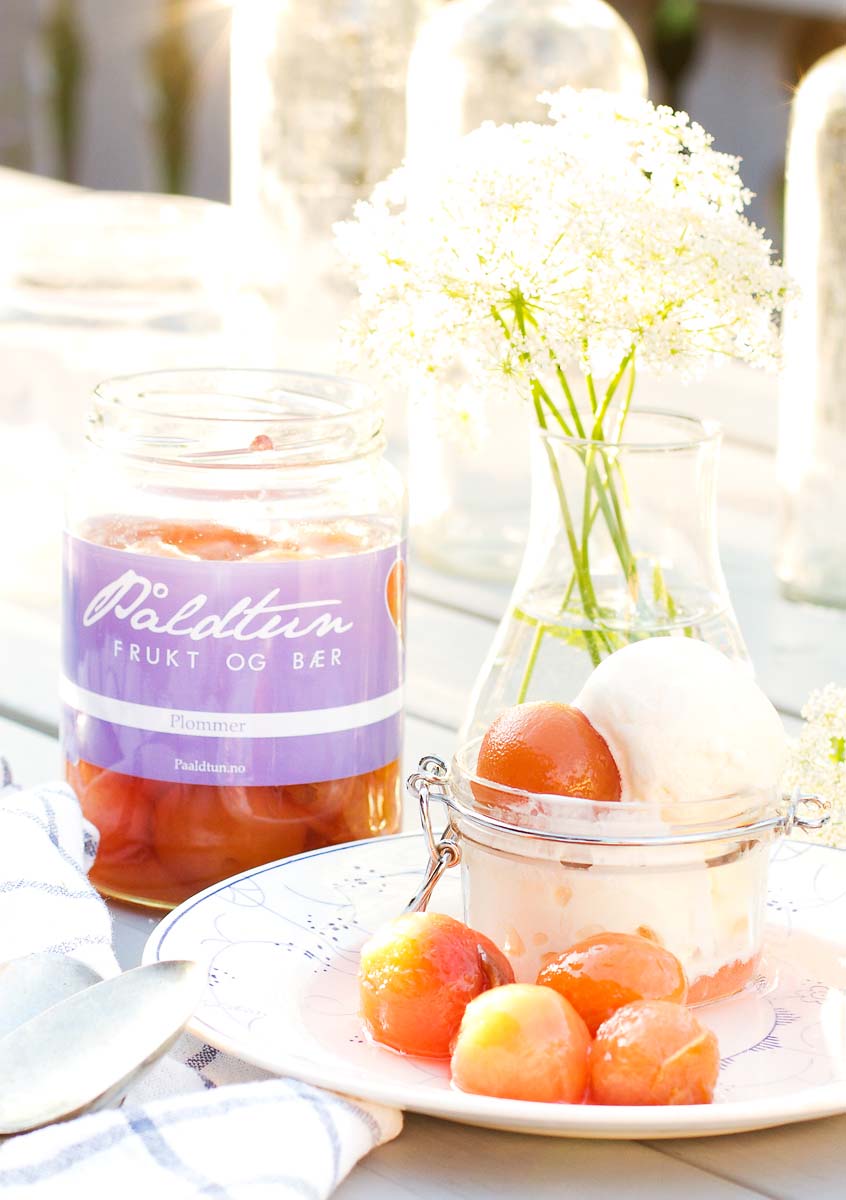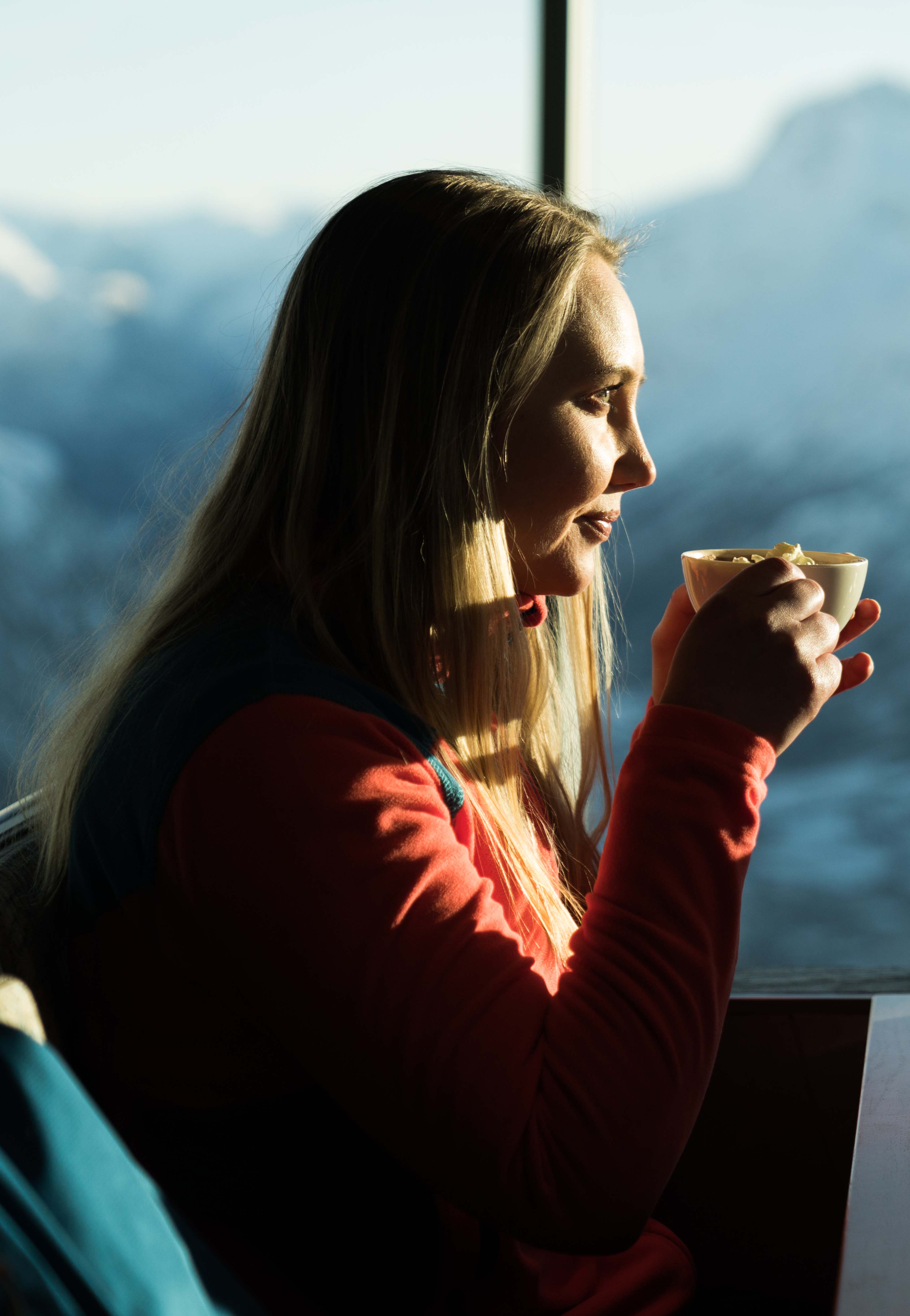 Views and insight
West Cape is the westernmost mountain plateau in Norway. And it is here, 497 metres above sea level, that you can visit Vestkapp restaurant to enjoy local fare and fantastic views. The panorama windows let in the fjord light and setting sun, adding a magical touch to your meal. If you're lucky, you might also get to experience a storm raging outside the window while you enjoy your dinner in peace and quiet. A range of experiences await. From Yri Outdoor outdoor café in Yrineset in Oldedalen to opera and champagne in the unique barn at Sølvane Gard in Kandal.
Gloppen Hotell in Sandane is one of the hotels in Norway that has really embraced the Taste of Nordfjord concept. With more than 50 local food producers represented on the menu, visiting this hotel, which is steeped in more than 150 years of history, is a gastronomic experience. Did we mention that you can see what life was like for a salmon lord? Gloppen Hotell can help make arrangements to enable you to fish in the Gloppen river, as they have done for guests since 1829. Hoven Restaurant offers panoramic views at the very edge of the mountain, 1,011 metres above sea level. The restaurant's à la carte menu has dishes made from local produce and it has its own pizza menu.
Foto: Bård Basberg / Hoven Restaurant
Local craftsmanship
Food is important, and in Nordfjord it is extremely important. A multitude of local food producers have won awards for their produce across the world. Gardsbrenneriet, Påldtun frukt og bær and Kandal Kjøtt, a family-run business that makes tasty meat products from goat and kid. Two other businesses are also found between the steep mountains and deep valleys in Kandalen, i.e. Sølvane Gard and Kandal Ysteri & Gardsmat which produce the award-winning goat cheese under the Kandalsfossen waterfall.
Another excellent producer operates high above the Gloppefjord; Høgt og Vilt which produces organic tea and spices. Many farms help to keep old culinary traditions alive; Aabrekk Gard bakes traditional bakes under the brand Lykle, making everything from fiskelefse pancakes to cordial and jam. Respect for and a love of craftsmanship are among the most important ingredients when Jevnlid Garden produces cured sausages from old recipes. If you'd prefer something sweet, a beekeeper who has been collecting honey since 1966 gives you the chance to taste the nature in the area around Breheimen, Breheimen Naturprodukt.
Foto: Gardsbrenneriet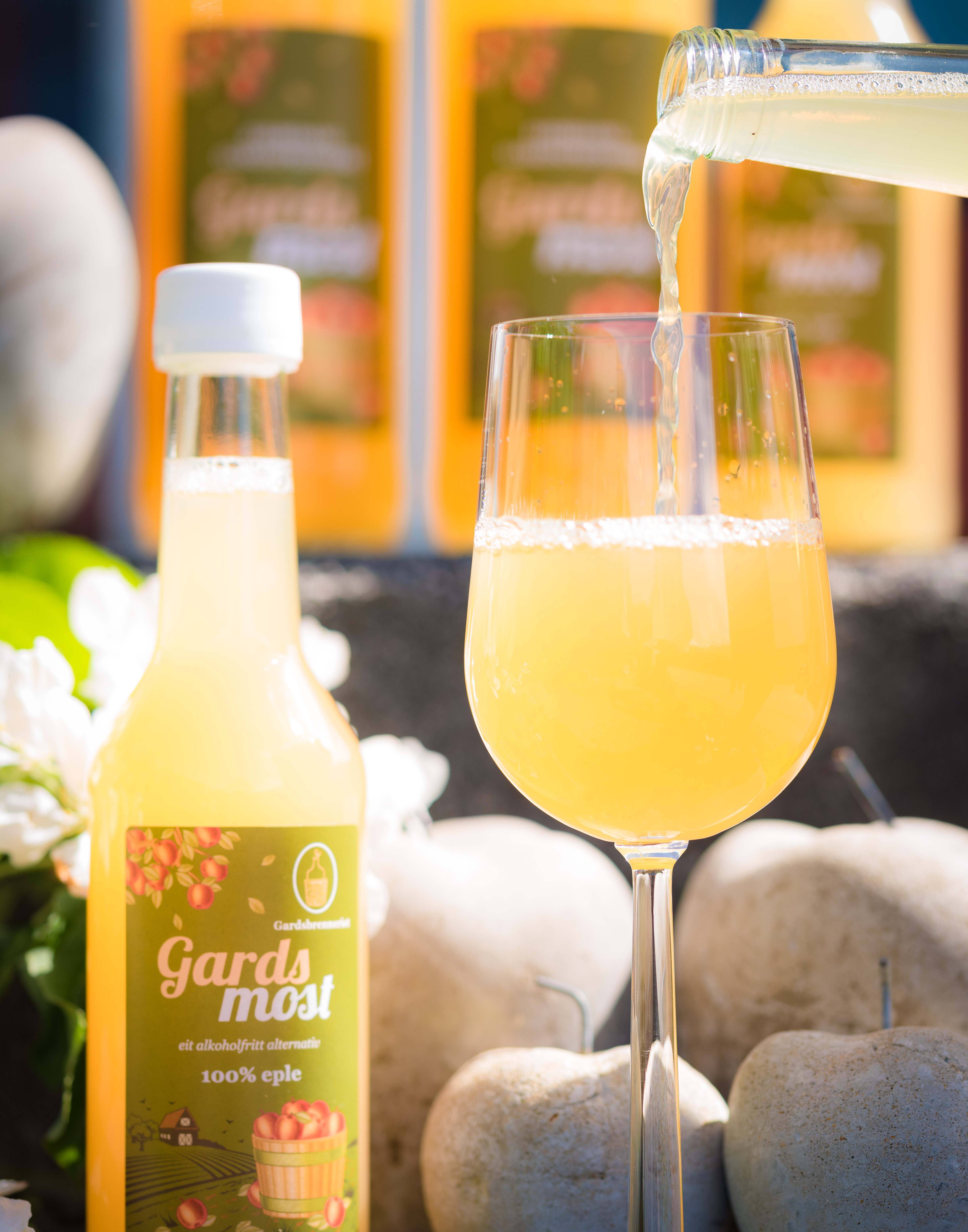 Foto: © Fjellestad Gardskjøkken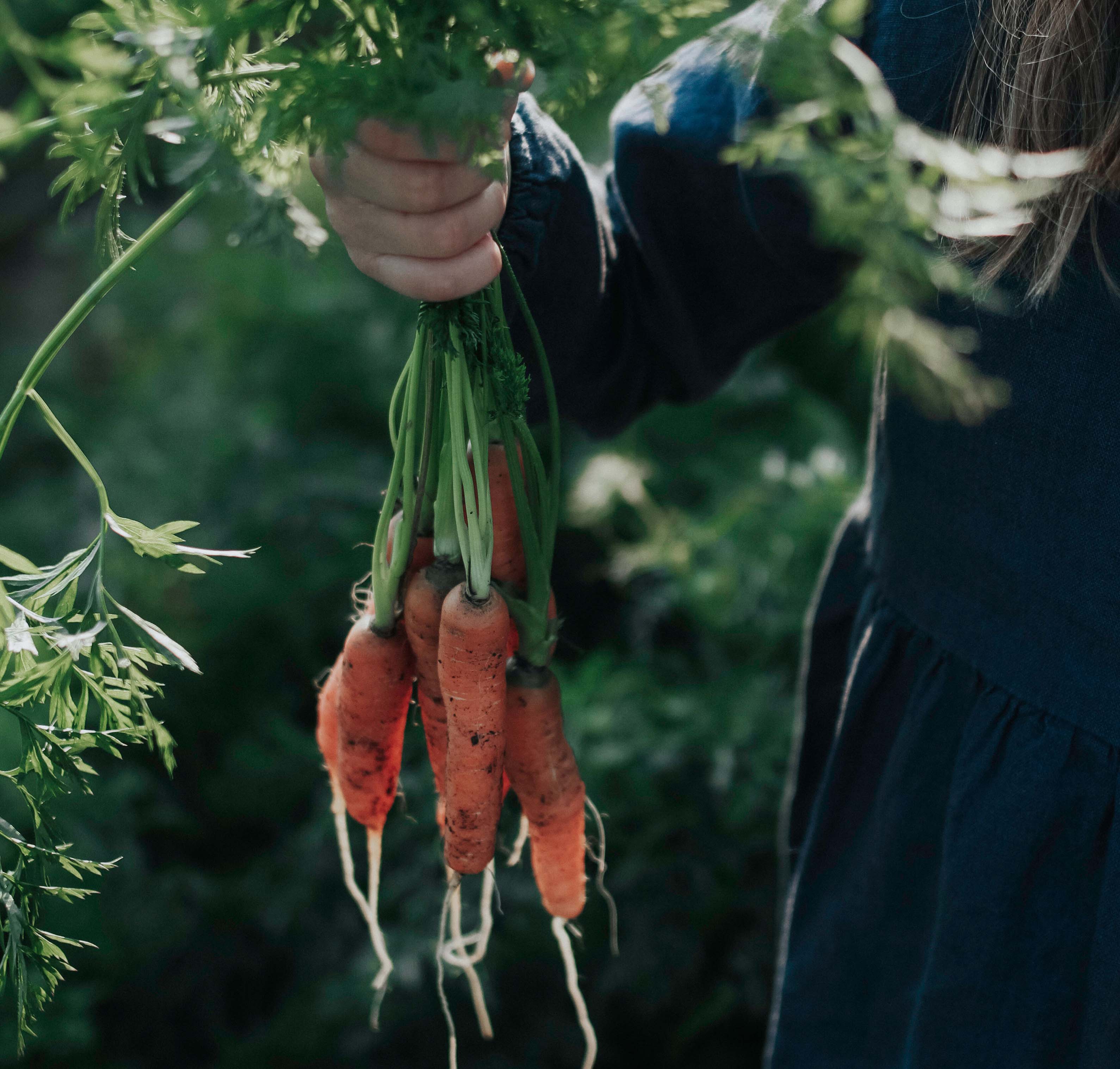 Great taste
As you can now see, food and culinary experiences in Nordfjord are much more than just a nice meal. They involve an amazing journey in a region where food and culture have gone hand in hand for generations. Where you can enjoy the great taste of Nordfjord when you stop at Matstova for fresh bakes and cakes or at the summer-open café Vaffeltunet for a wholemeal waffle with local smoked salmon from O.L. Brekke. Where you can spend the night at one of the many historic hotels and enjoy a meal carefully planned and prepared by a head chef, who is proud to be a bearer of tradition.
Bon appétit!
Foto: © Emma Midthjell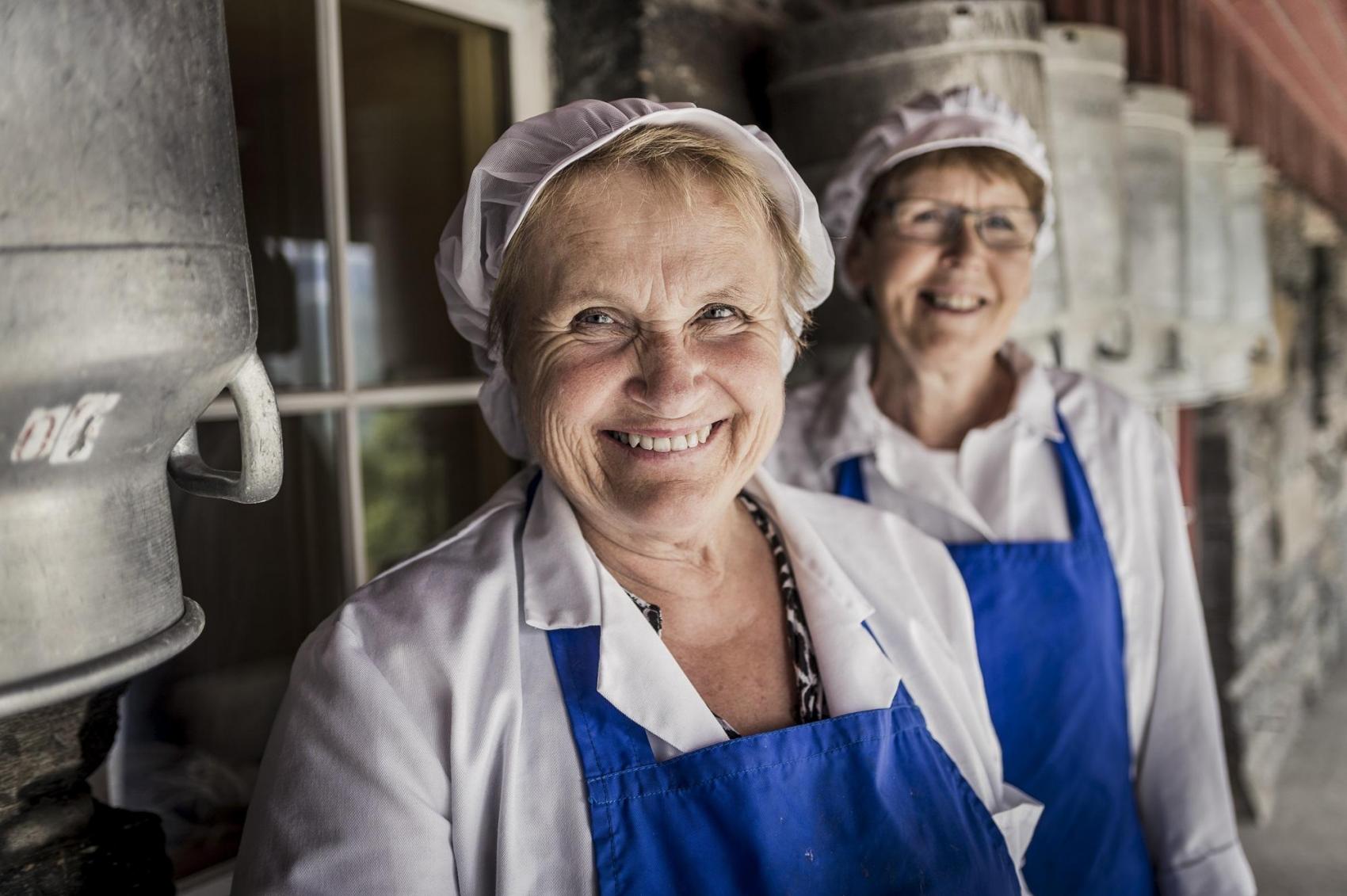 Foto: © Fjellestad Gardskjøkken
Mat og drikke i Nordfjord