Bremanger
Bremanger, where the land meets the sea, has untouched nature and fantastic fauna. Did you know that there are more deer than people in Bremanger?
©
Helle Frogner / Knutholmen
Bremanger is Norway in miniature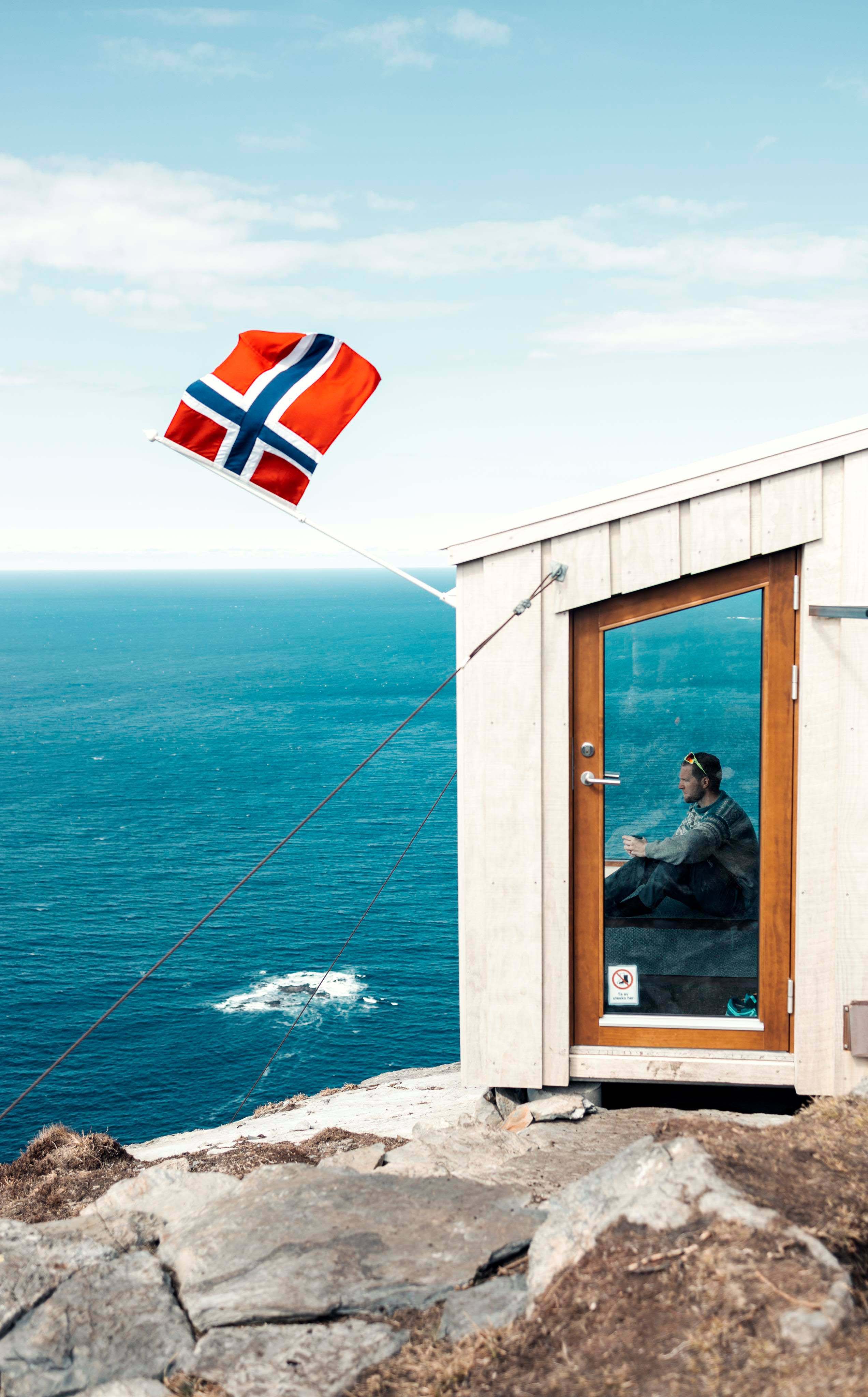 It is known for its white sandy beaches, cliffs, tall mountains, fjords, fairways, ocean and glaciers. It is a paradise for scenic experiences where the weather is part of the experience, whether the sun is shining or a storm is raging.
With more than 100 waymarked trails, from very easy walks to very demanding trails, Bremanger is perfect for walks, and you can walk on the sandy beaches Grotlesanden and Vetvika, hike to the top of Hornelen, Europe's highest cliff, or conquer Gjegnen on the Ålfotbreen glacier, the highest summit in Bremanger. If you want to gaze across the ocean, the views from Dosabu storm cabin and Veten day trip cabin are simply breathtaking. There is a wide range of great walks to do in the municipality for adults and children alike.
Bremanger's rugged scenery is also perfect for action-packed activities like motorsports, enduro biking, kayaking, surfing, SUP or kiting. You can test your climbing prowess at Mestringsgarden climbing park at Nesbø. Book a guided activity or an active dream holiday from Norway advenTURes. Explore Tongane coastal fortress on the island of Rugsundøy on your own, and bring a torch. See the World War II barracks, check out the canon posts and eat your packed lunch outdoors under the large canon that looks out across the Nordfjord. You may even spot an eagle. Bremanger has a rich fauna of deer, eagles, otters as well as a great variety of birds, fish and marine animals. You can get particularly close to deer at Hjortegarden in Ålfoten, and even help to feed them.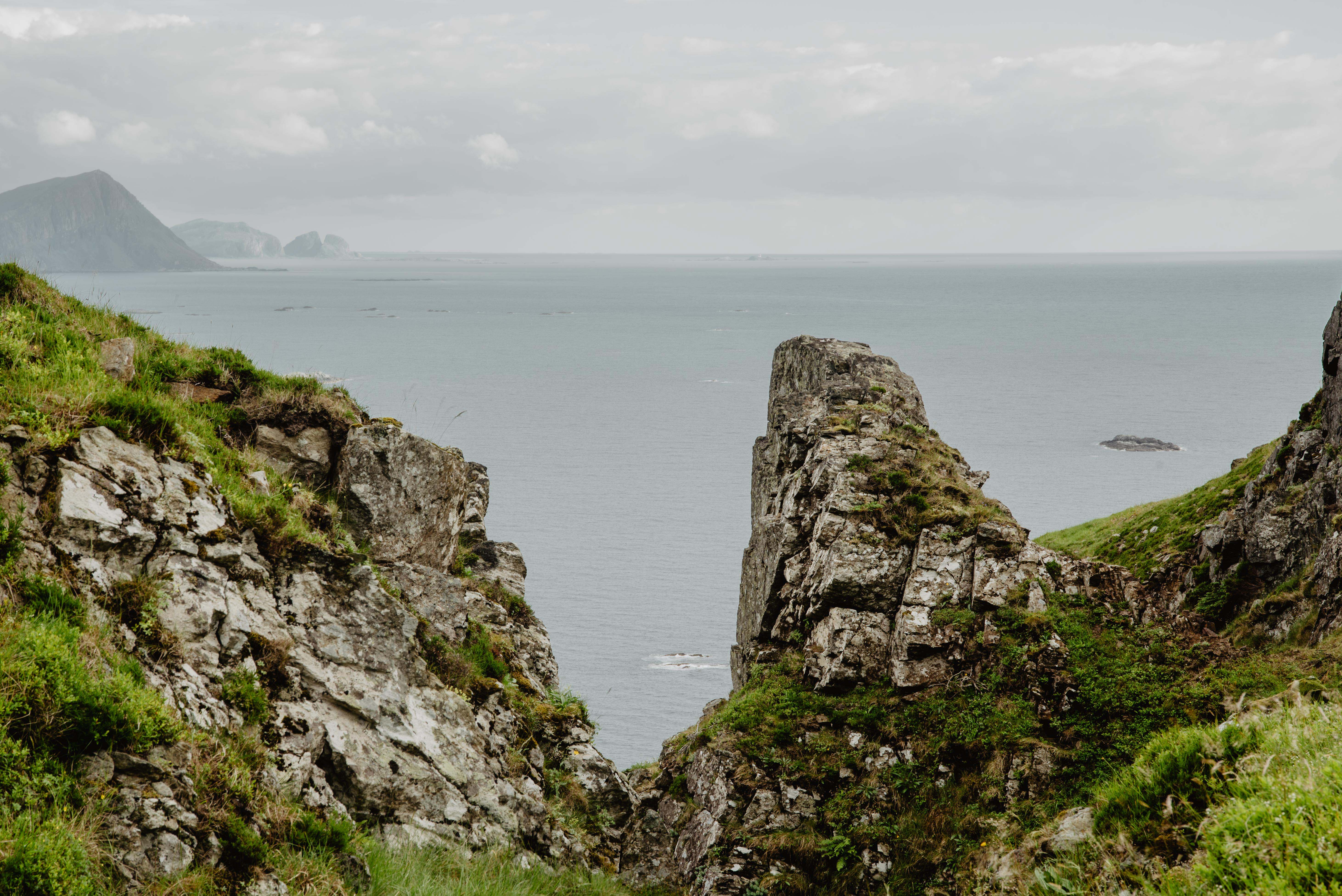 Skorsteinen © Thomas Sagvik
Norway's number one deer municipality
Deer are everywhere in Bremanger, so drive carefully in the evening if you're heading to the coast to visit the charming fishing village Kalvåg with its distinctive wharfside warehouses and boathouses. You can stay and eat at Knutholmen in Kalvåg, Havly Bed and Breakfast in Bremanger or Bremanger Fjordhotel in Svelgen. You can also spend the night at one of the old trading posts in the municipality, such as Smørhamn Handelsstad or Rugsund Handelsstad. Or you can take advantage of one of the many boathouses, traditional fisherman's style rorbu and cabins for let dotted across the municipality. If you travel by camper van, you can park in Bremanger, Kalvåg or Svelgen. Many of the accommodation providers hire out bikes, kayaks and boats. You can also book guided tours of Bremanger via the Tourist Information Office, Norway AdvenTURes and Knutholmen.
Bremanger is known for its rich culture and sports scene, and many cultural events are held in summer. There is always a good turnout and a great atmosphere at events like the Vetenløpet uphill race and the festivals Rockweekend and Kalvåg kystfestival.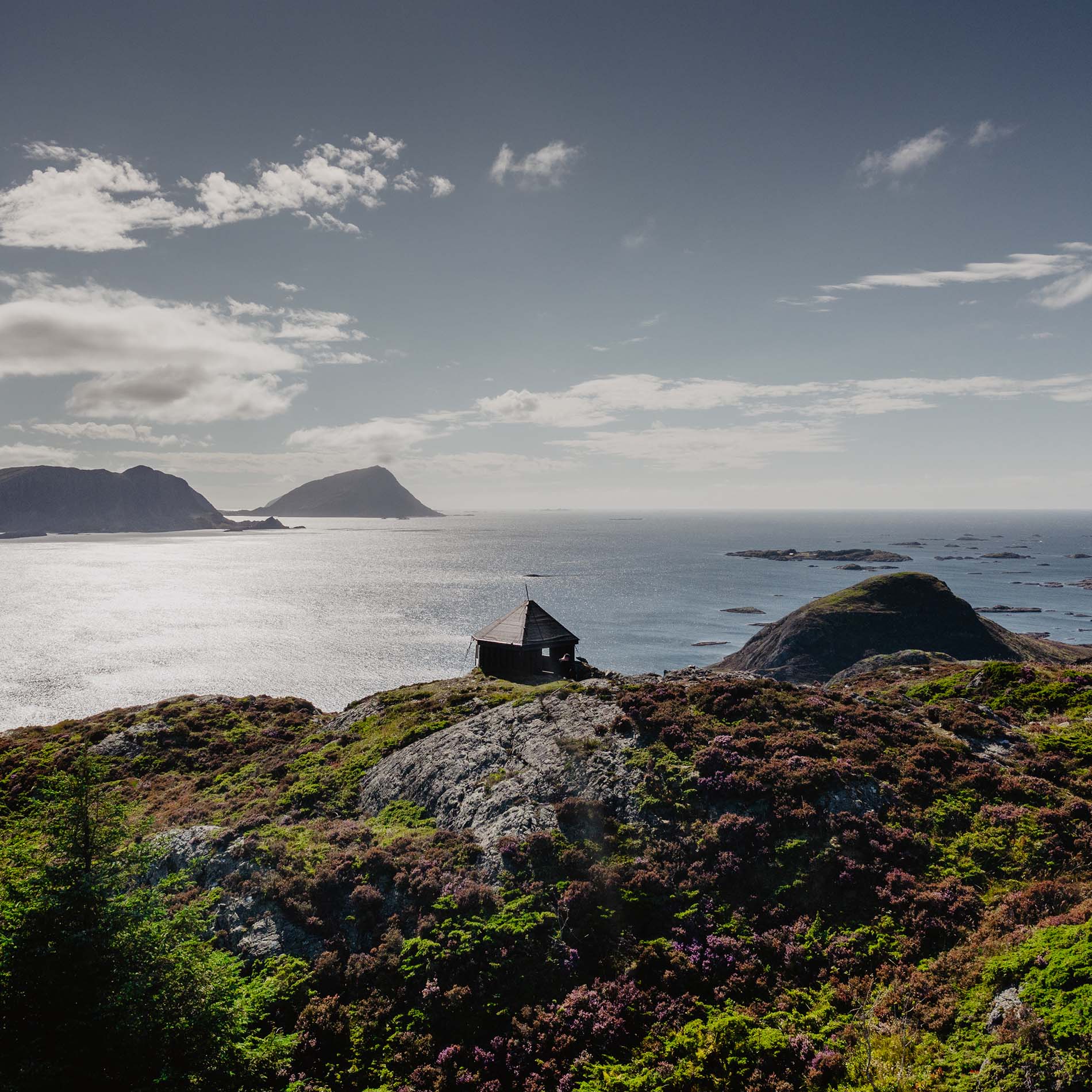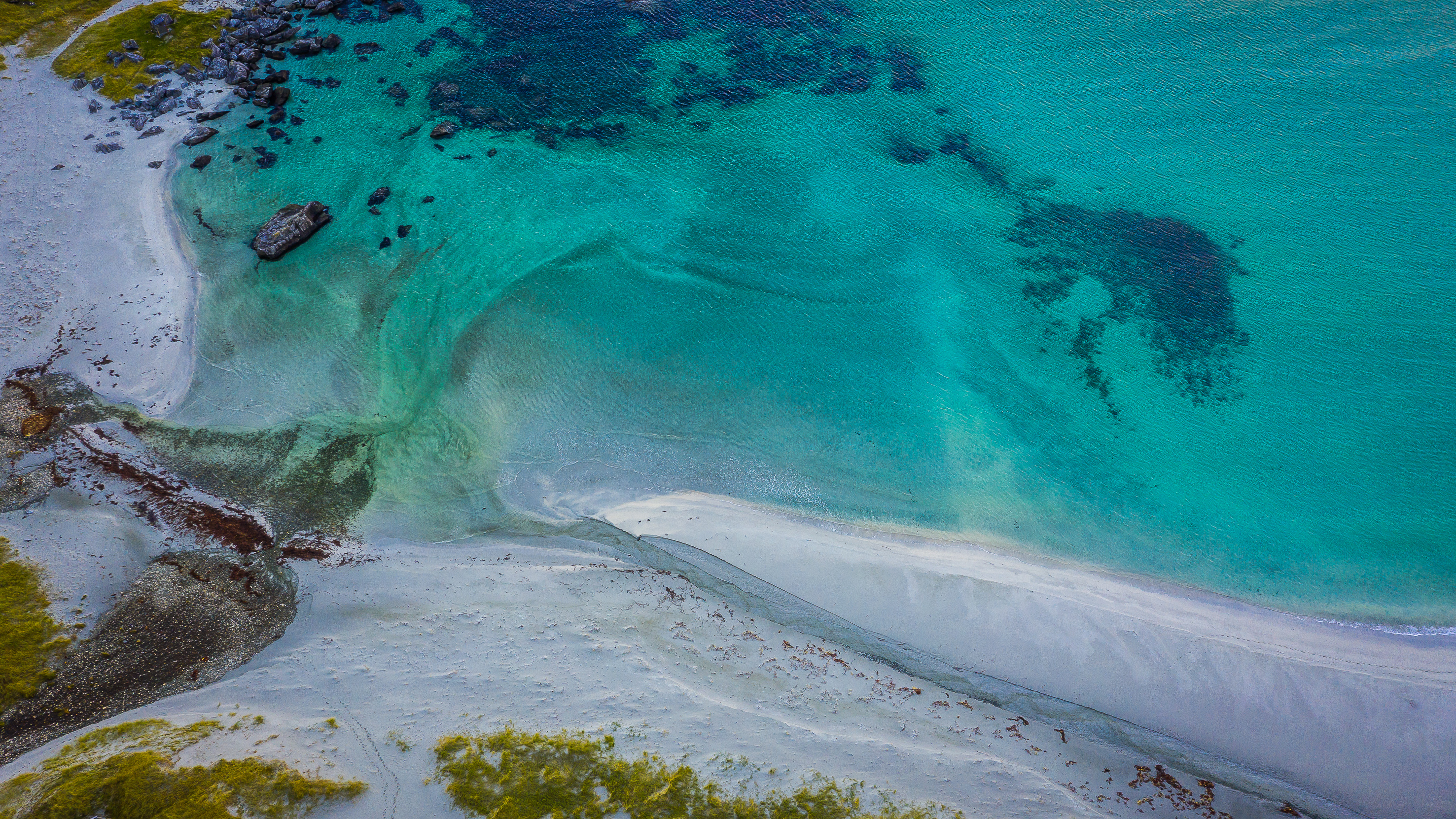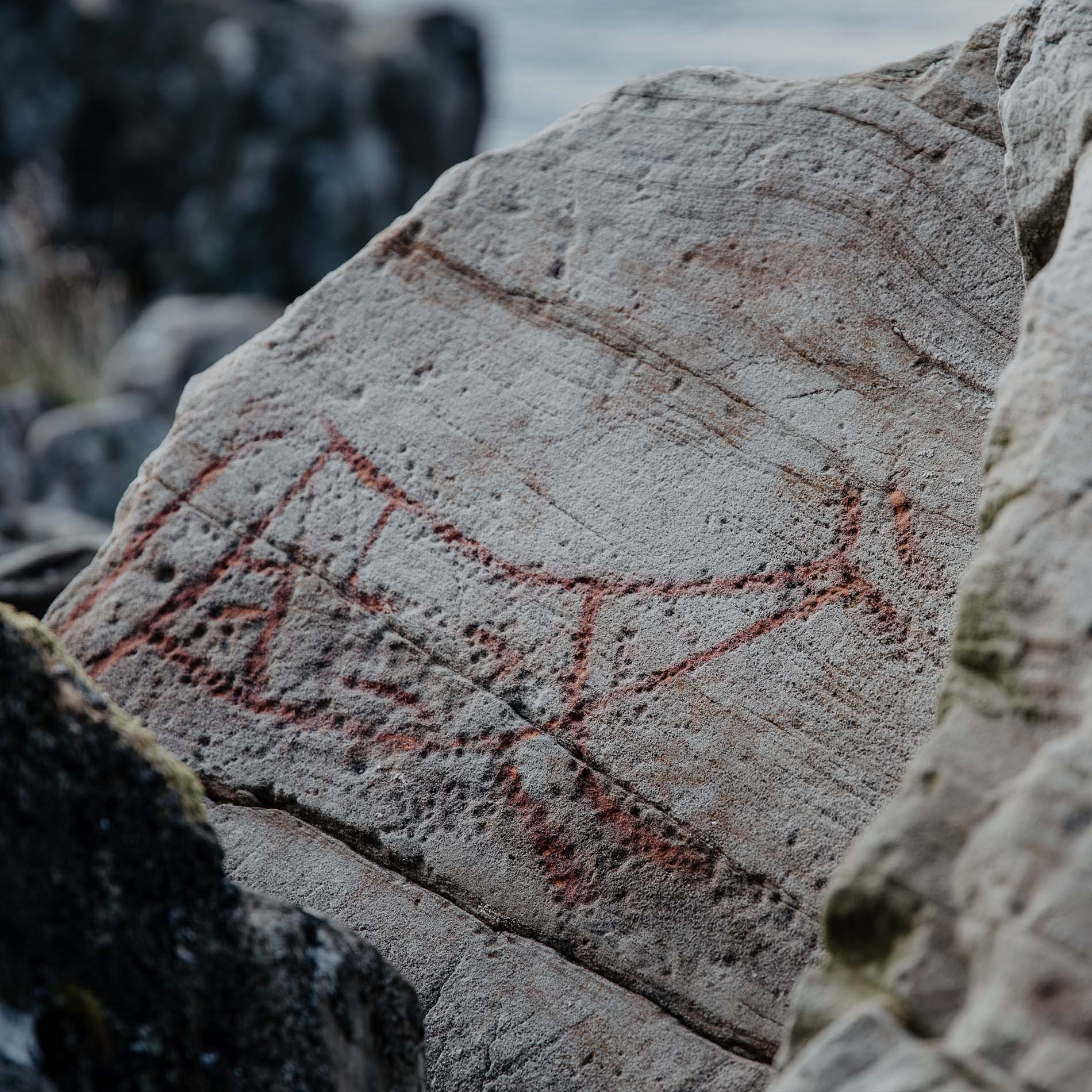 If you would like to wind down, treat yourself to a visit to Farmen livsstilsbutikk or Carolas Buaspa. The sun always shines at Carolas Beach, where you're guaranteed sunshine and real sand between your toes!
Bremanger is a municipality with a strong sense of history thanks to its costal culture, Stone Age settlement and rock carving site, the wild feats of Viking kings, war history with a war fortress and canons, herring fisheries and industrial history. People have lived here for 10,000 years and you can see traces of cultural heritage dating thousands of years back in time, such as the Botnane burial mounds, or visit the Medieval cemetery at Grotle. At Vingen, you can see more than 2,300 rock carvings that are approx. 7,000 years old. There is no infrastructure such as roads or power cables in this area, and you'll be able to admire the magnificent mountains as people saw them during the Stone Age. HM Queen Sonja has visited the area many times. It is almost untouched by man, and you can only visit the area by booking a guide through the Tourist Information Office.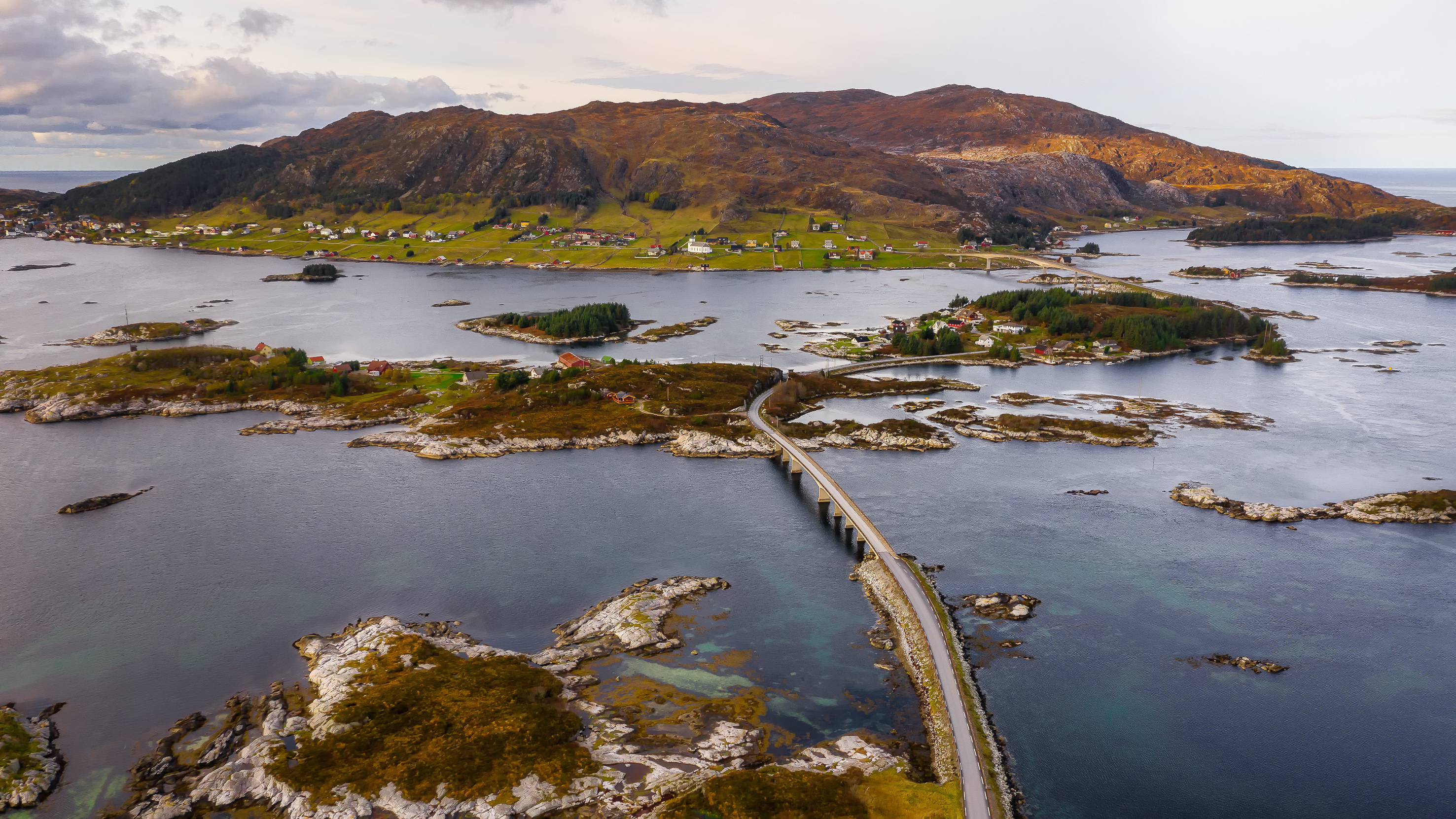 'Little Lofoten'
Many people call Bremanger 'little Lofoten', and with good reason. The combination of mountains and ocean, cosy fisherman's style rorbu accommodation, a lively coastal scene and local high-quality produce provides experiences that you'll remember long after your visit.
The Ålfotbreen glacier and the surrounding mountains provide a lofty landscape and a great challenge for people with experience of hiking in the mountains. No other place in the world has this kind of Devonian sandstone landscape. If you decide to take on the challenge of these rock formations, your reward will be a visit to one of the most spectacular Norwegian Trekking Association cabins in Norway; Gjegnabu.
But every day in Bremanger doesn't have to be about uphill climbs and mountain tops. Take the boat to Vetvika and see Norway at its best. Everything is exceptional in Vetvika. The sea is exceptionally clear, the sand is exceptionally white and everything is exceptionally beautiful.
Foto:  © Nordlandblog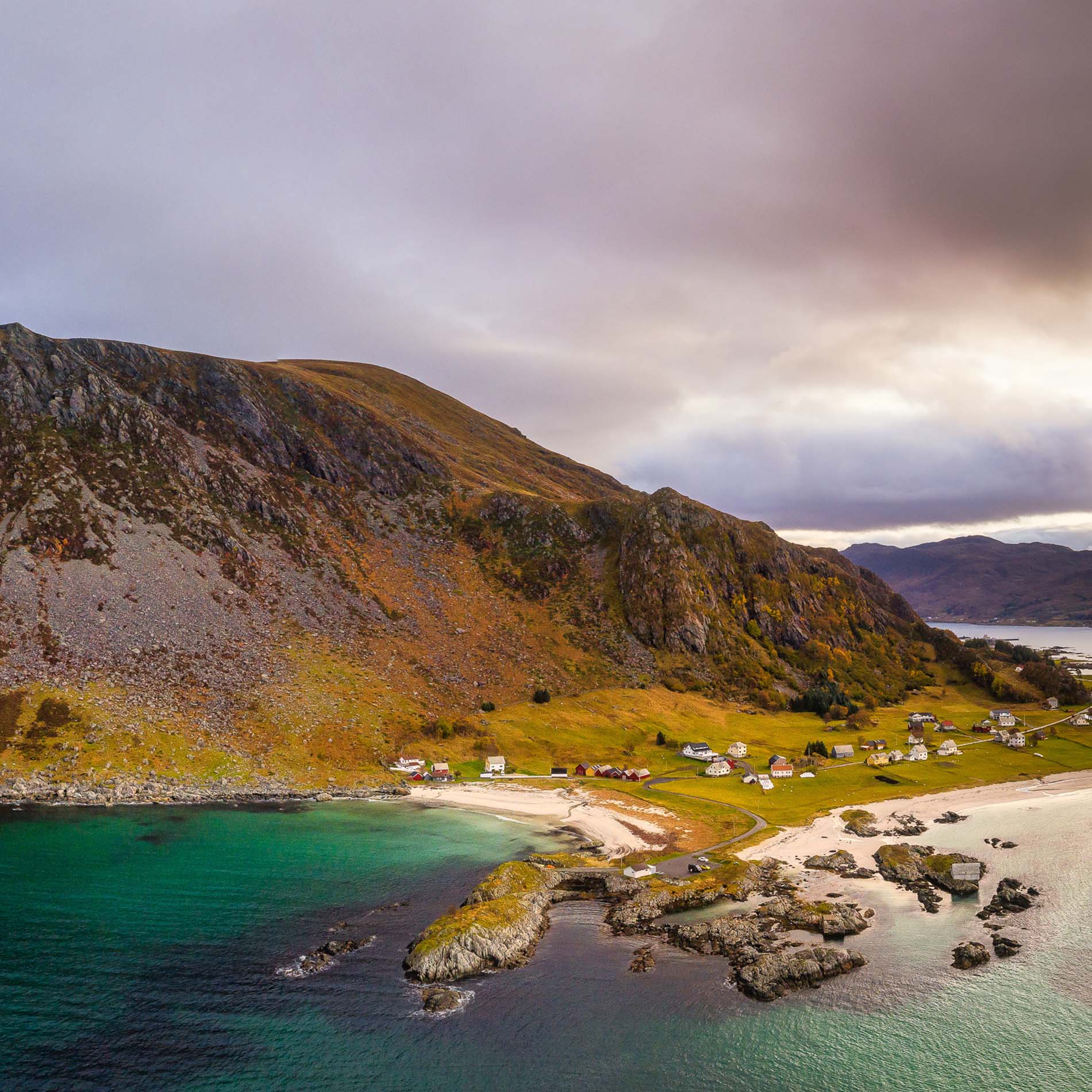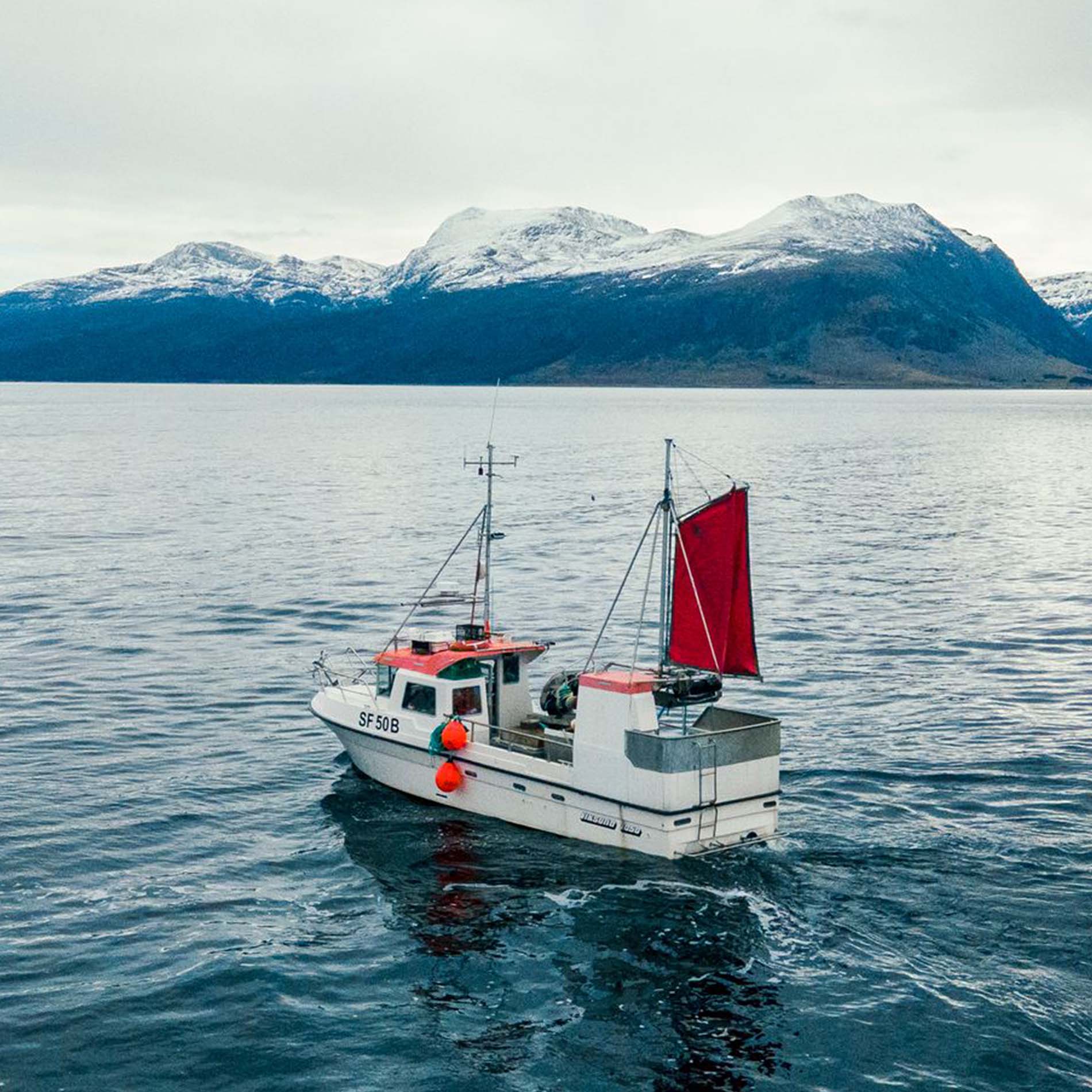 Back in civilisation, there are always new discoveries to be made along the seashore. Take your children on a voyage of discovery among the driftwood, small crabs, pebbles and sharp shells! And if you've never held an oar or would like to find out if kayaking is really as fun as people would have it, guides can be organised who will ensure you achieve a sense of mastery and a memory for life. Why not do it as a family?
Fishing from a small fishing boat is every bit as exotic in 'little Lofoten' as in the north of Norway. A fishing trip in Bremanger is a cultural experience that you won't forget in a hurry! Book a fishing trip through Knutholmen, where you can join a local skipper in the archipelago or out at sea. You can go fishing for crabs or from a small fishing boat. If you go fishing for crabs, you can try your hand at dragging, emptying and baiting creels. You can also join a boat safari on MB Bella to experience the magnificent sea eagle.
Getting to 'little Lofoten' is easy. Visit if you're doing a road trip along the coast of Western Norway, take the express boat from Bergen or fly from Florø.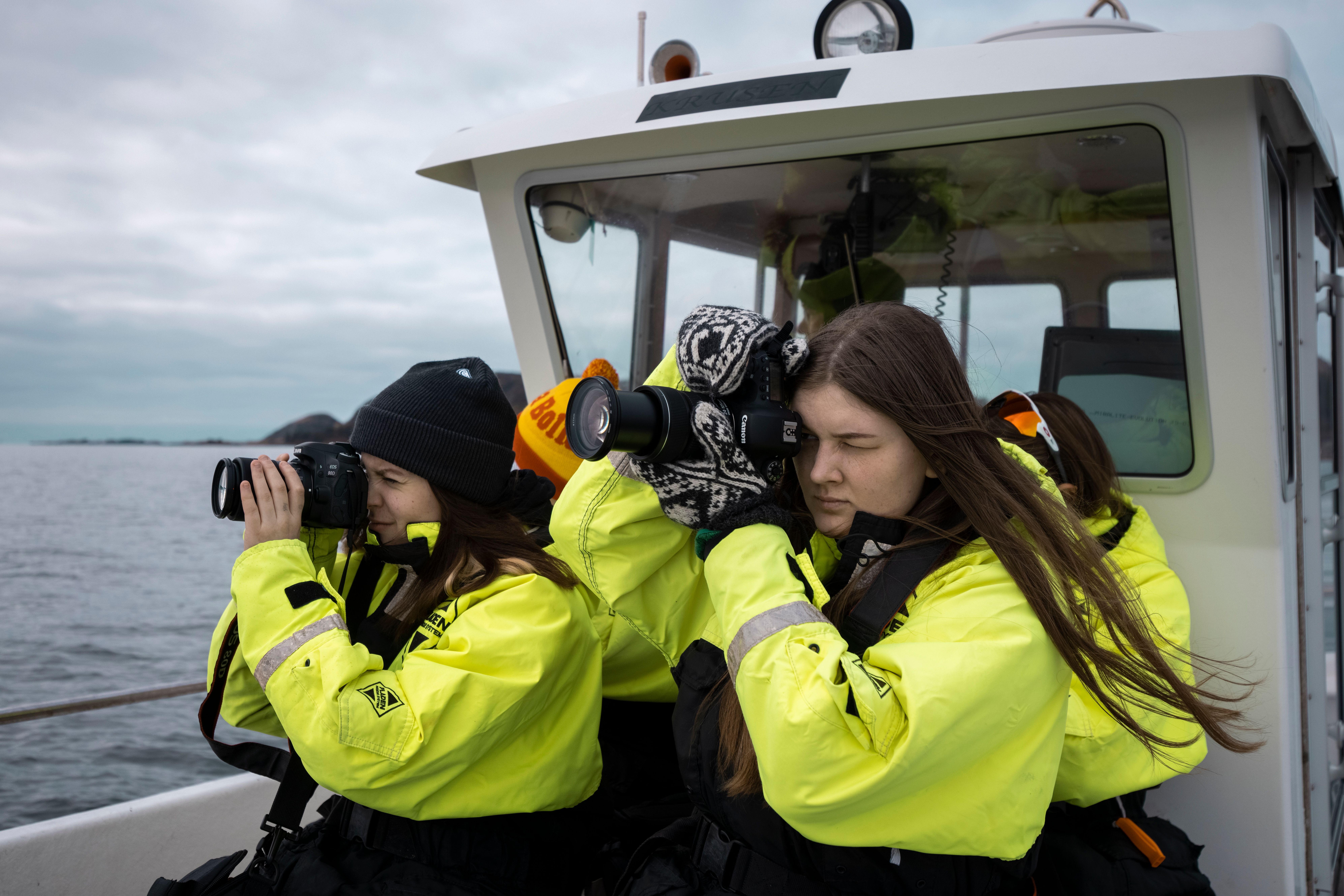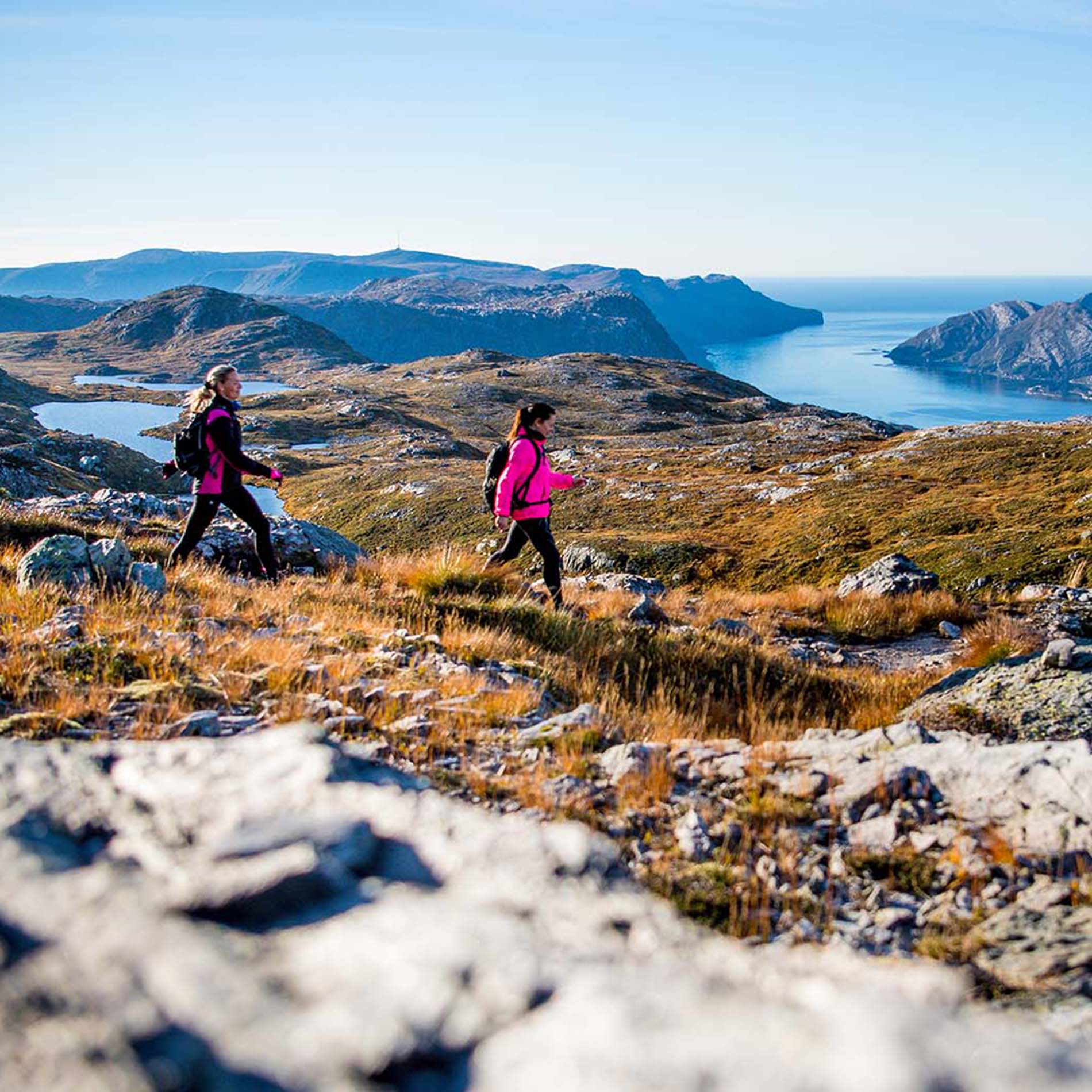 Climb the highest sea cliff in Europe
The nature in Bremanger is magnificent, but it's the relationship between nature and history that really adds an extra dimension to the experiences. 
Hornelen is the highest sea cliff in Europe with panoramic views up the fjord arm and towards the islands out to sea. Few Norwegian mountains are shrouded in as much mystery and myth as Hornelen. You can ponder stories of witches dancing on the mountain on Midsummer night as you walk up the long mountainside. Join a guided walk to Hornelen.
From Hornelen, you look towards Vingepollen and the rock carvings at Vingen. There is no road to this inlet, but it's where to go to learn more about the area's history and cultural heritage. A guide can show you around the 2,000 figures.
Accommodation in Bremanger
Food and drinks in Bremanger