Nordfjord for children
Holidaying with children is special time that you never get back. And Nordfjord is nature's very own family park and playground. There are experiences and possibilities here to suit all tastes.
Nordfjord is a paradise for families with children
Nordfjord is made for fun, games, challenges, achieving a sense of mastery, joy and enthusiasm – for the whole family. That is why Nordfjord is often referred to as the ultimate destination for families. Two, three and four generations of families flock here, precisely because there's something for everyone.
Great holiday experiences
Nordfjord offers great holiday experiences whichever road you take. Some of them are high up in the mountains, in an exciting valley or beside tranquil lakes, while other experiences await beside a river, the fjord or the sea. We also have old wooden hotels that are said to have friendly ghosts, lovely shopping centres with shops for the whole family, outlets and places with unique small shops. And above all: thousands of activities. You'll quickly find that the days fly past and that the holiday will be over all too soon. But we have a solution to that too: Visit us again – as soon as you can. Because we have so much more to offer.
Foto: © Emma Midthjell Solibakke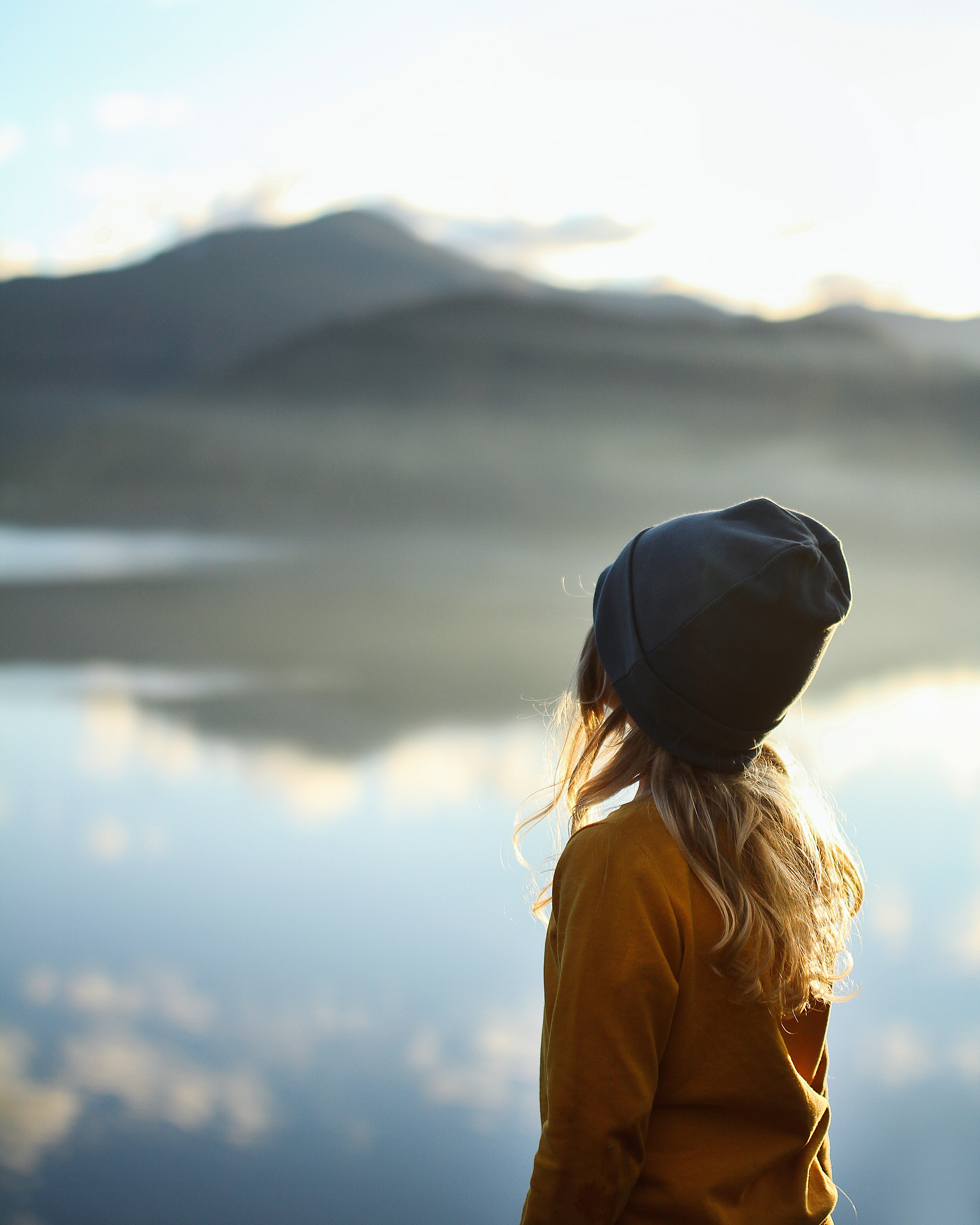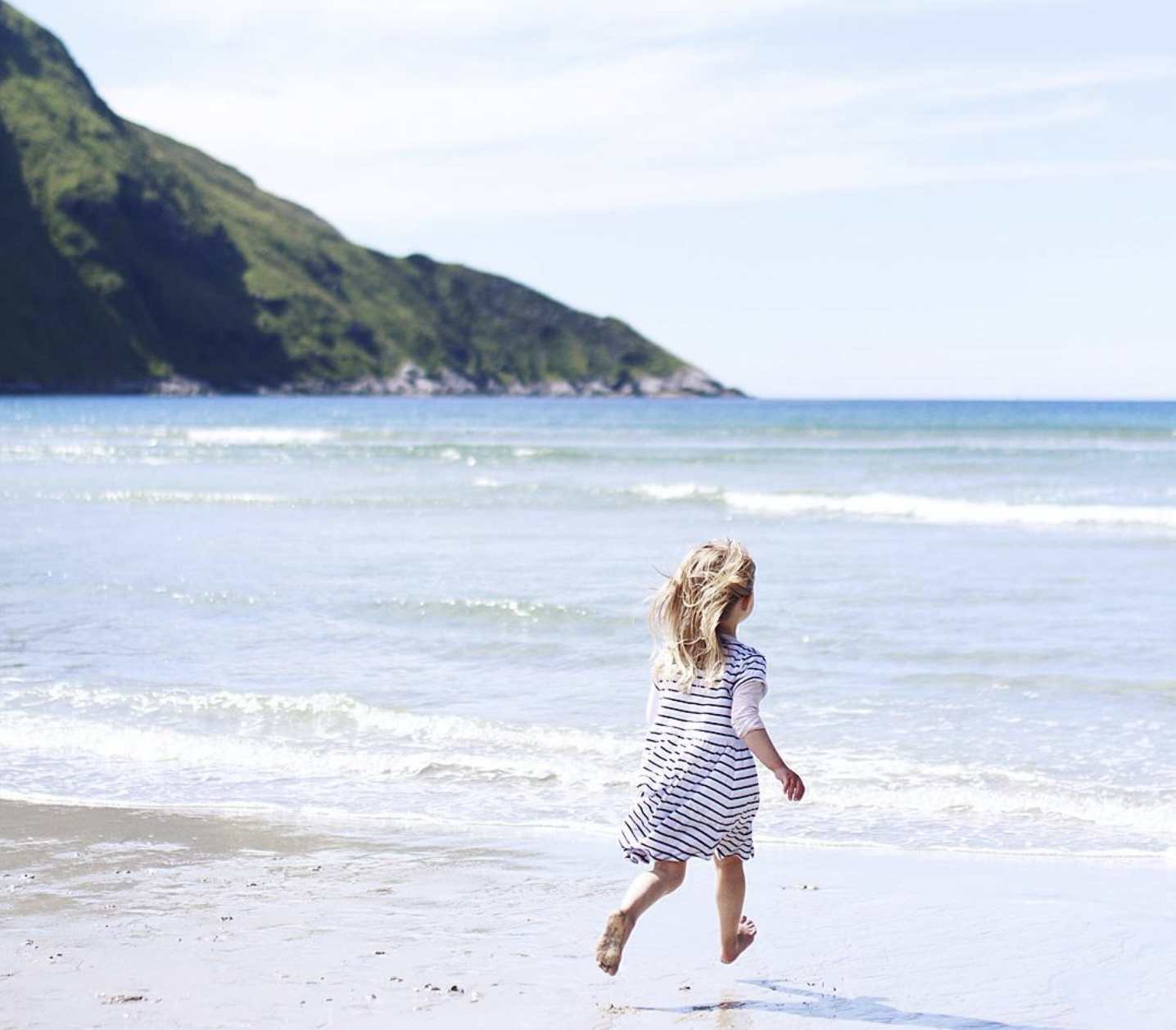 Foto: © Emma Midthjell Solibakke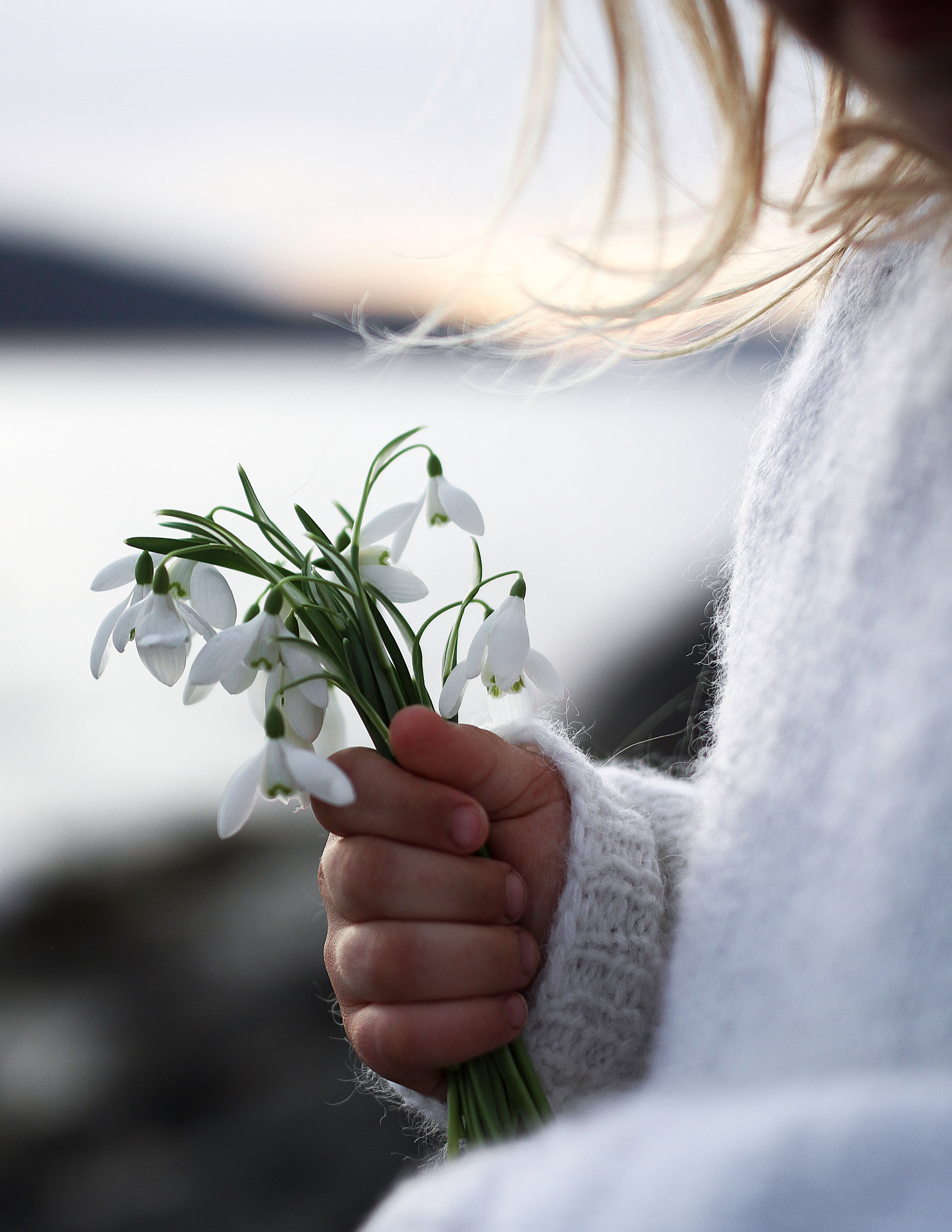 Ten tips for the perfect family holiday in Nordfjord:
Involve the children in planning the holiday. See our website for inspiration and travel tips. Let children draw pictures of and tell you about their expectations. Do they match how the holiday turned out?

Book your holiday in plenty of time, so that you can look forward to it together for a while.

Involve the children in deciding what to do on different days of the holiday.

Set aside plenty of time for each visit. Things often take longer than you imagine. And nothing will spoil the atmosphere more than being pressed for time.

Set aside plenty of time to discover, taste and enjoy the delicious child-friendly food in Nordfjord. Activities are always more enjoyable when no one is hungry.

It's often a good idea to stay at the same place over a number of days, and to do day trips from this base. Children can then come back to a place they are familiar with in the evening. And you don't have to check in and out every day.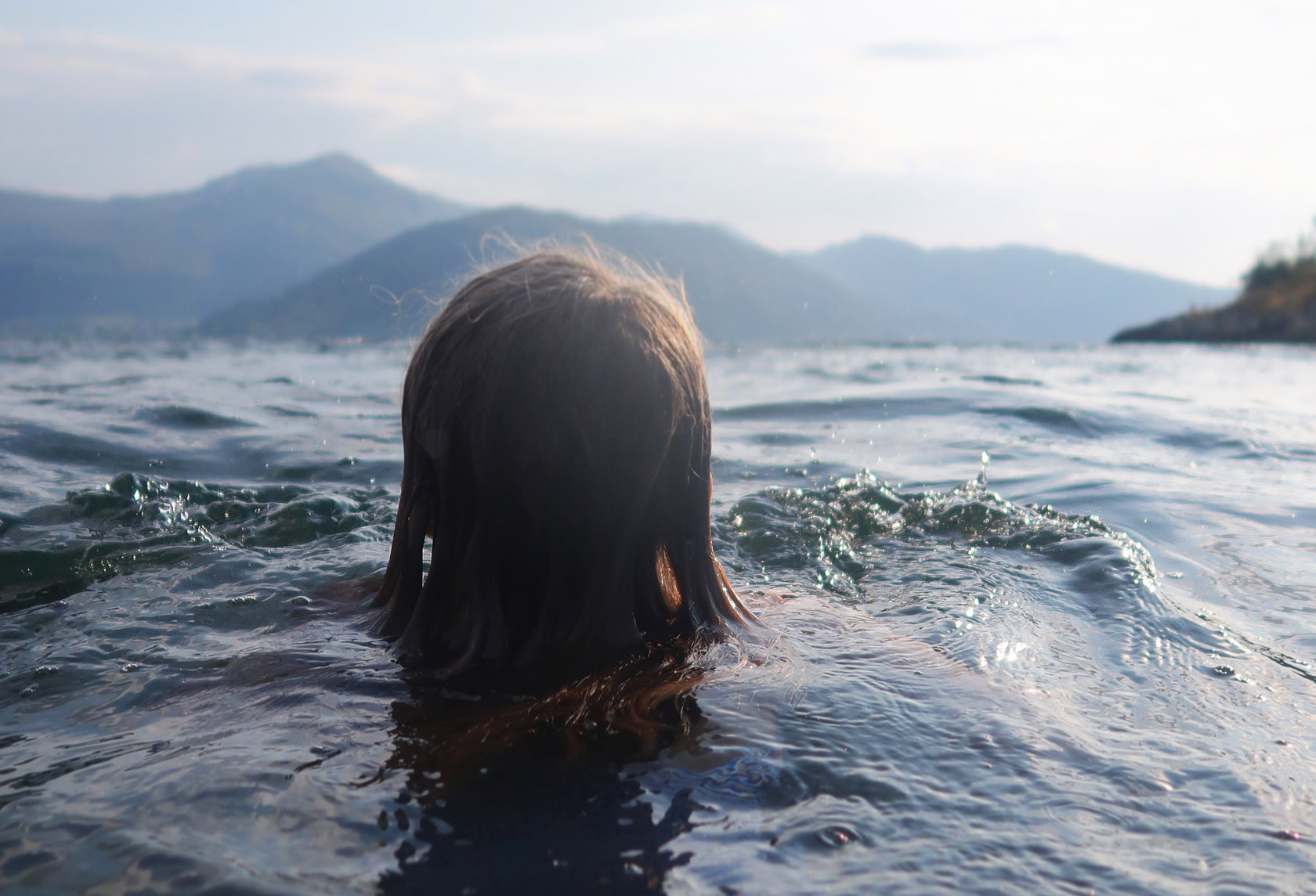 Foto: © Emma Midthjell Solibakke
Bring clothes for all kinds of weather. Don't let the weather limit what you can do on your holiday. Summer days are often lovely and warm in Nordfjord, but this isn't always the case. And rather than giving you a weather guarantee, we can guarantee that you'll have lots of unforgettable experiences, whatever the weather.

Be curious. We want to show you secret strawberry patches, small hidden gems and the things we are proud of in Nordfjord. We would love to tell you about them, so don't hesitate to ask the people you meet. A tip from one of the locals could prove to be the highlight of your holiday.

Can you take an extra friend along? Nordfjord is the perfect holiday destination for children and their friends. And even a boring car trip is more fun when you can share it with a friend.

Make a photo album of your holiday when you get home. Children love looking at photos of themselves. You can also collect mementos that you can glue into an album.
Foto: © Emma Midthjell Solibakke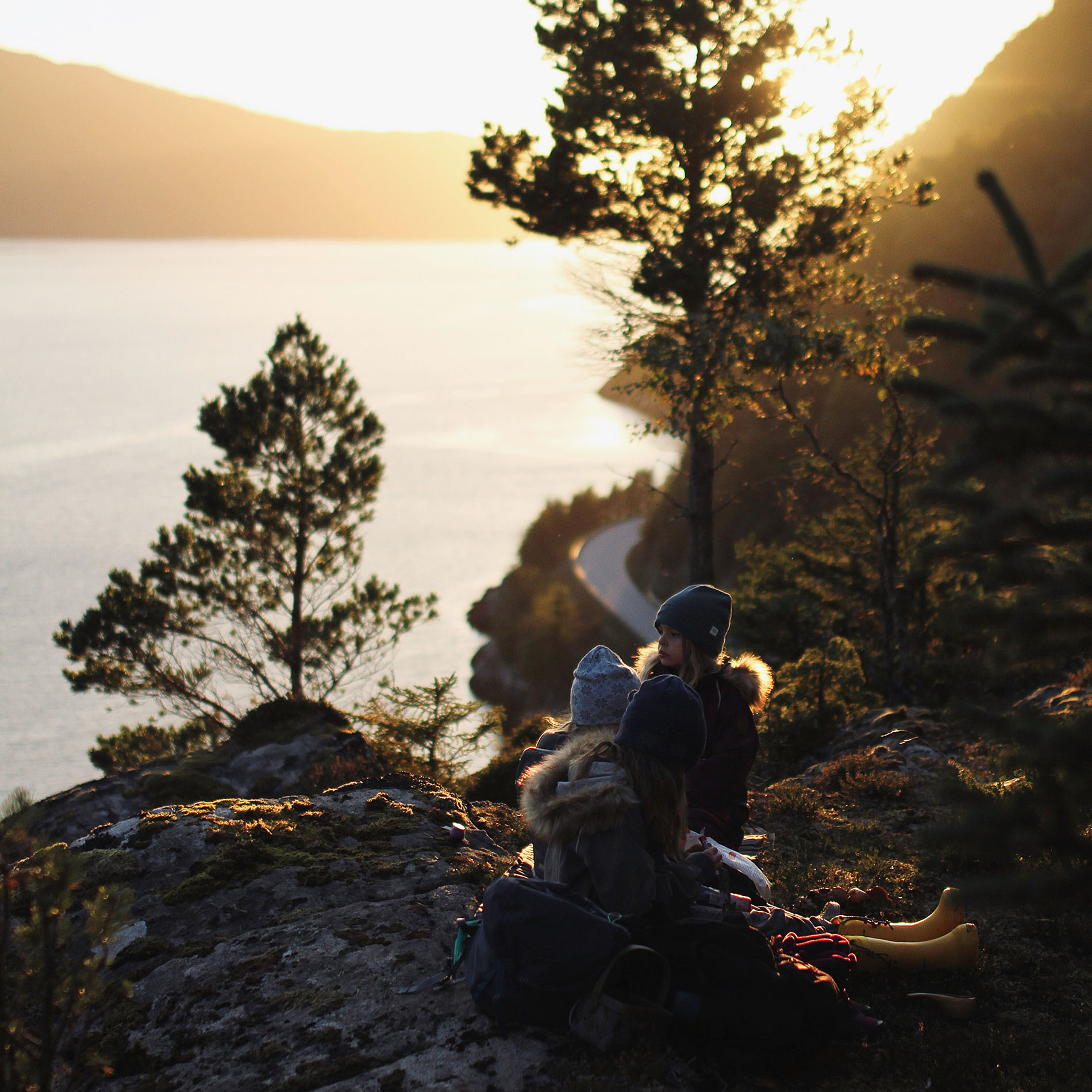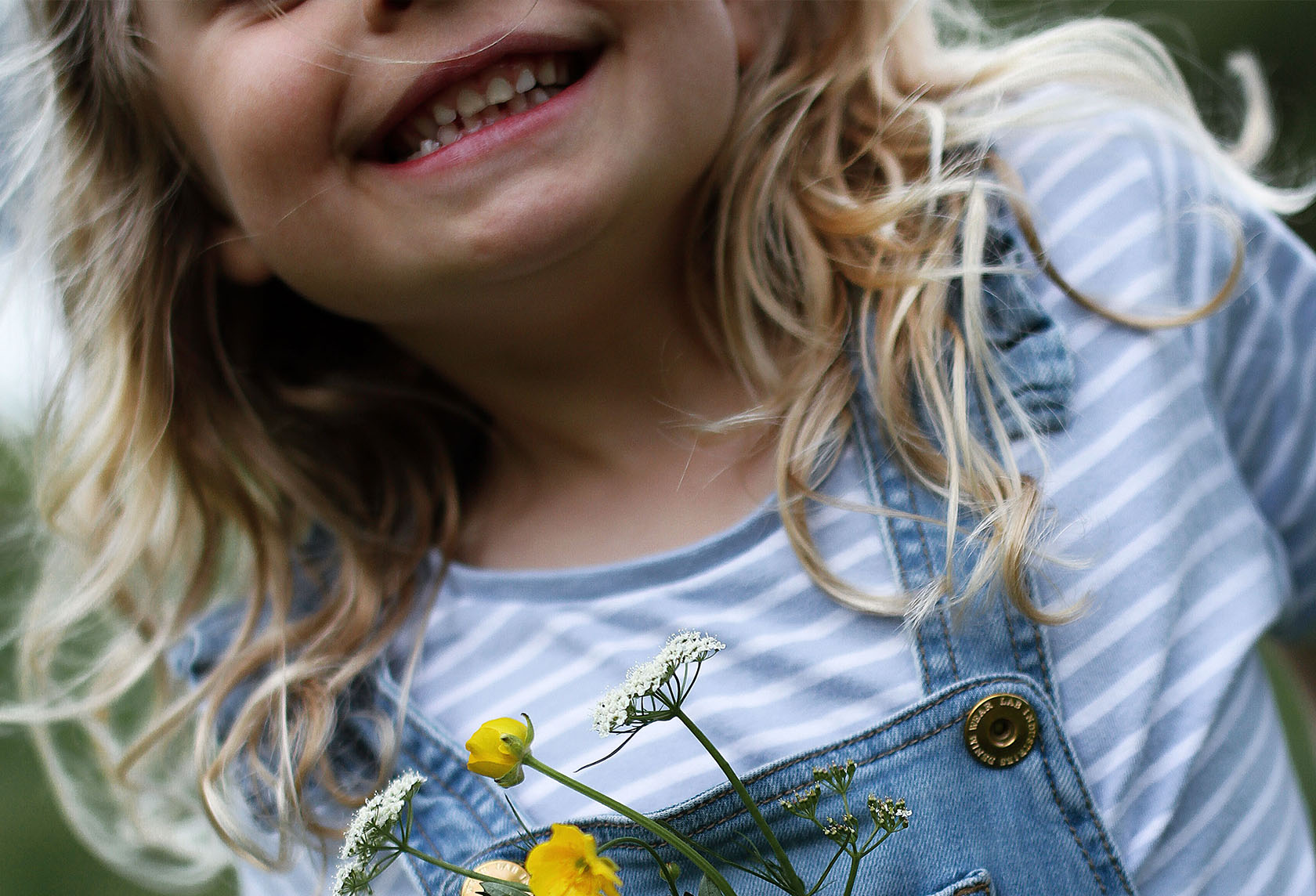 Foto: © Emma Midthjell Solibakke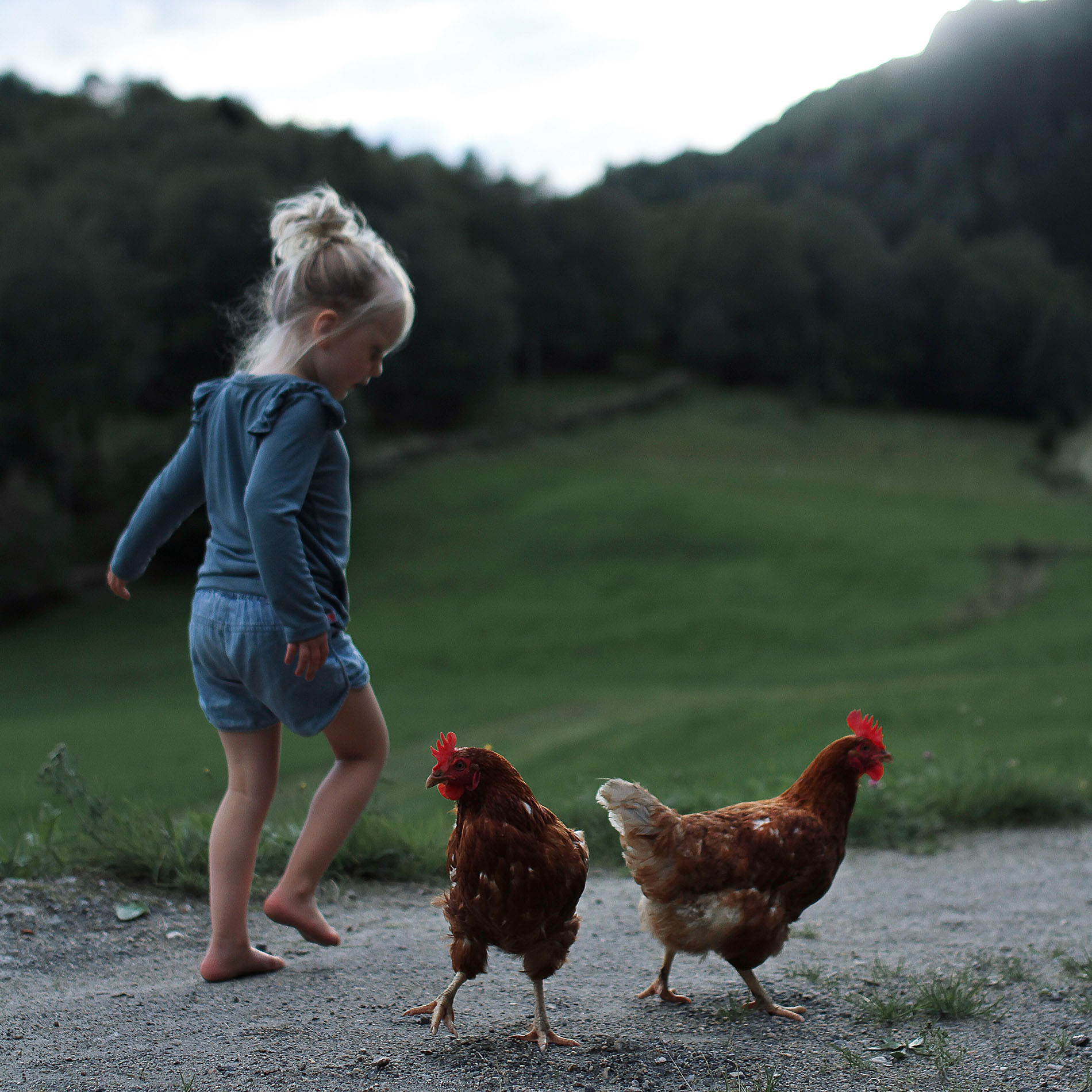 Family-friendly experiences in Nordfjord
Petting farms
The Hjortegarden deer farm is located in the village Ålfoten. Visitors can help to feed the deer and see this wonderful animal at close range. It is also a great starting point for walks in the forest and mountains, with excellent opportunities for going for a swim and fishing in mountain lakes.
Nave Hjortefarm deer farm is in Nave in Stad municipality. As well as close contact with deer, you'll also meet animals such as llamas, ponies, goats and dogs. Nave is a great starting point for hiring a canoe or hiking.
Foto: © Emma Midthjell Solibakke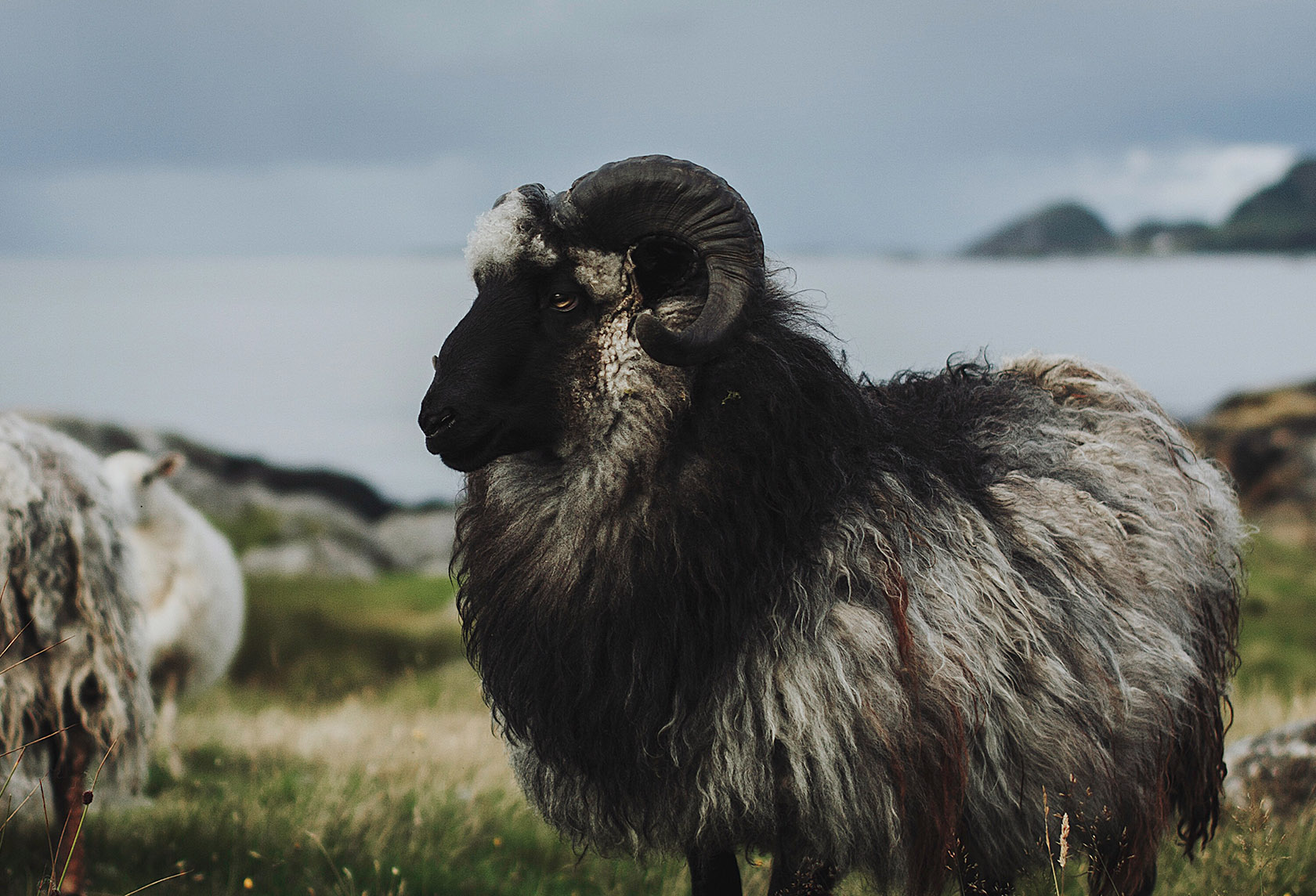 Foto: © Emma Midthjell Solibakke
On horseback
The Norwegian Fjord Horse Centre in Nordfjordeid runs a range of family-friendly activities. Here you can learn about the history of the Fjord horse, and of course also get a chance to help care for them and go horse-riding.
Stall Rygg in Sandane organises horse-riding trips, which they tailor to families' wishes and skill level. Everything from short trips on a track to great trips out in nature over several hours. Stall Rygg organises riding weekends where you can spend the night at a traditional summer pasture farm in Traudalen.
Norsk Fjordhestgard in Breim organises horse-riding trips for adults and children alike. Everything from a half-hour introductory trip for beginners to driving a large cart that seats up to eight people. And there are a range of options between the two.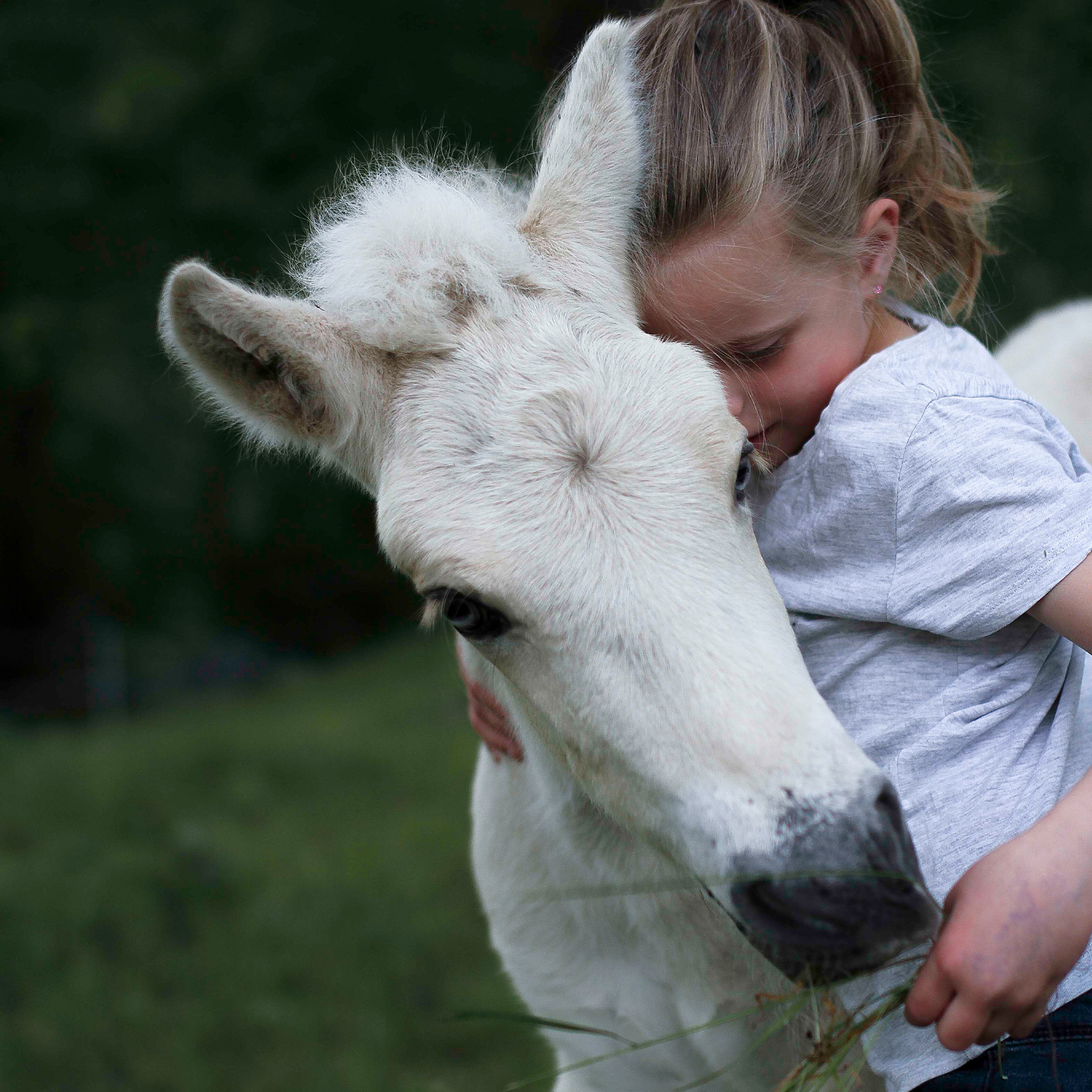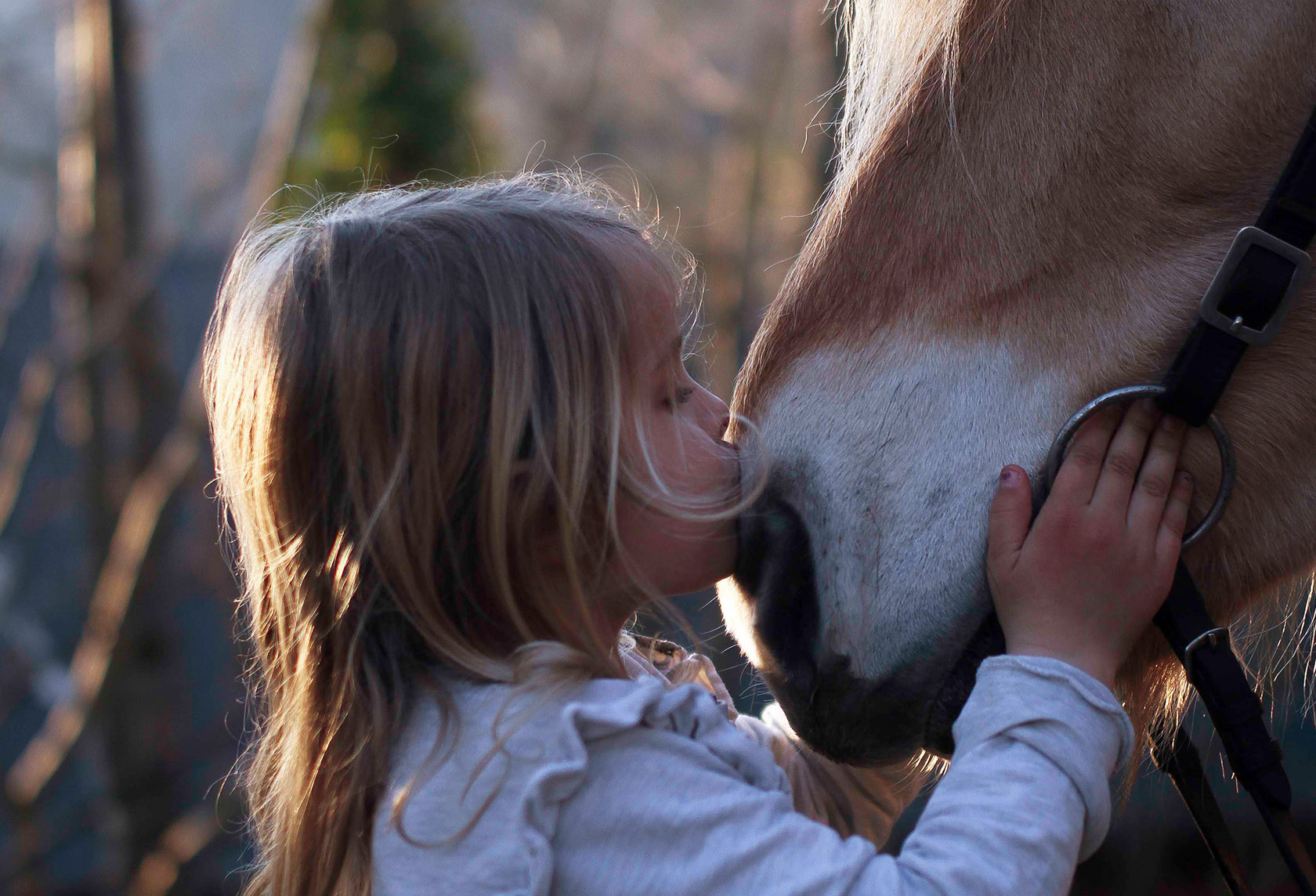 Foto: © Emma Midthjell Solibakke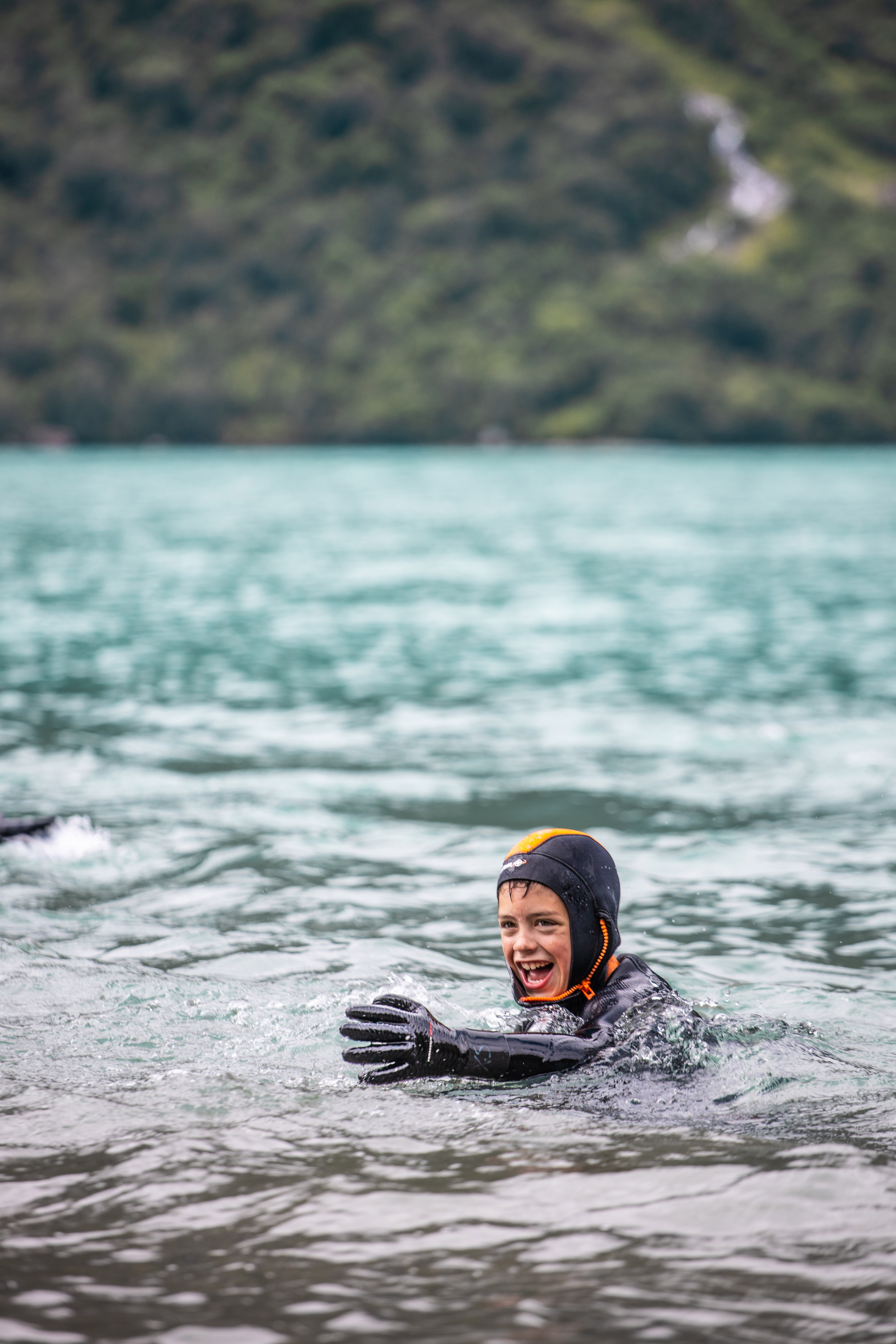 Swimming opportunities
Nordfjord has lots of great opportunities for going for a swim, and you can check who's the toughest among you in glacier lakes or enjoy temperatures of more than 20 degrees in lakes. You can also swim in indoor and outdoor pools. Here are a few of your options:
Trivselshallen in Sandane is in the same building as the sports hall in the centre of Sandane. It has a swimming pool (25 degrees), a water slide, a therapy pool (34 degrees), a children's pool and a diving platform.
Gloppen Camping og Fritidssenter has a beach and an outdoor swimming pool.
Byrkjelo Camping has a lovely, and very popular, outdoor pool. It also has a small pool for children.
Hotel Alexandra has a large swimming pool complex with indoor and outdoor pools which are adjoined by channels. It has a really thrilling water slide and a pool with jet nozzles for people looking for a good exercise session. There are several indoor and outdoor children's pools, and a water slide, waterfall and cave.
Foto: © Ruben Soltvedt
Seljesanden beach is located in the lovely village of Selje. It's little wonder that thousands of pictures of this beach find their way to Instagram. The beach extends from the centre to Selje church.
Grotlesanden beach is one of the nicest and best for swimming in Western Norway. This sandy beach is enjoyed by many families with children over the course of the summer. It is located close to several other small beaches between Hauge and Grotle.
The 1.5-km-long Refviksanden beach is in Vågsøy, and, since it's shallow, it quickly warms up to a nice temperature on the finest days, and it is also child-friendly. Refviksanden beach has been ranked Norway's loveliest beach several times.
Hoddevik is in Stad municipality. In Hoddevik, at the outermost tip of Stad, you can stroll barefoot on white sand surrounded by tall mountainsides. You can even take your children surfing at Hoddevik.
Foto: © Emma Midthjell Solibakke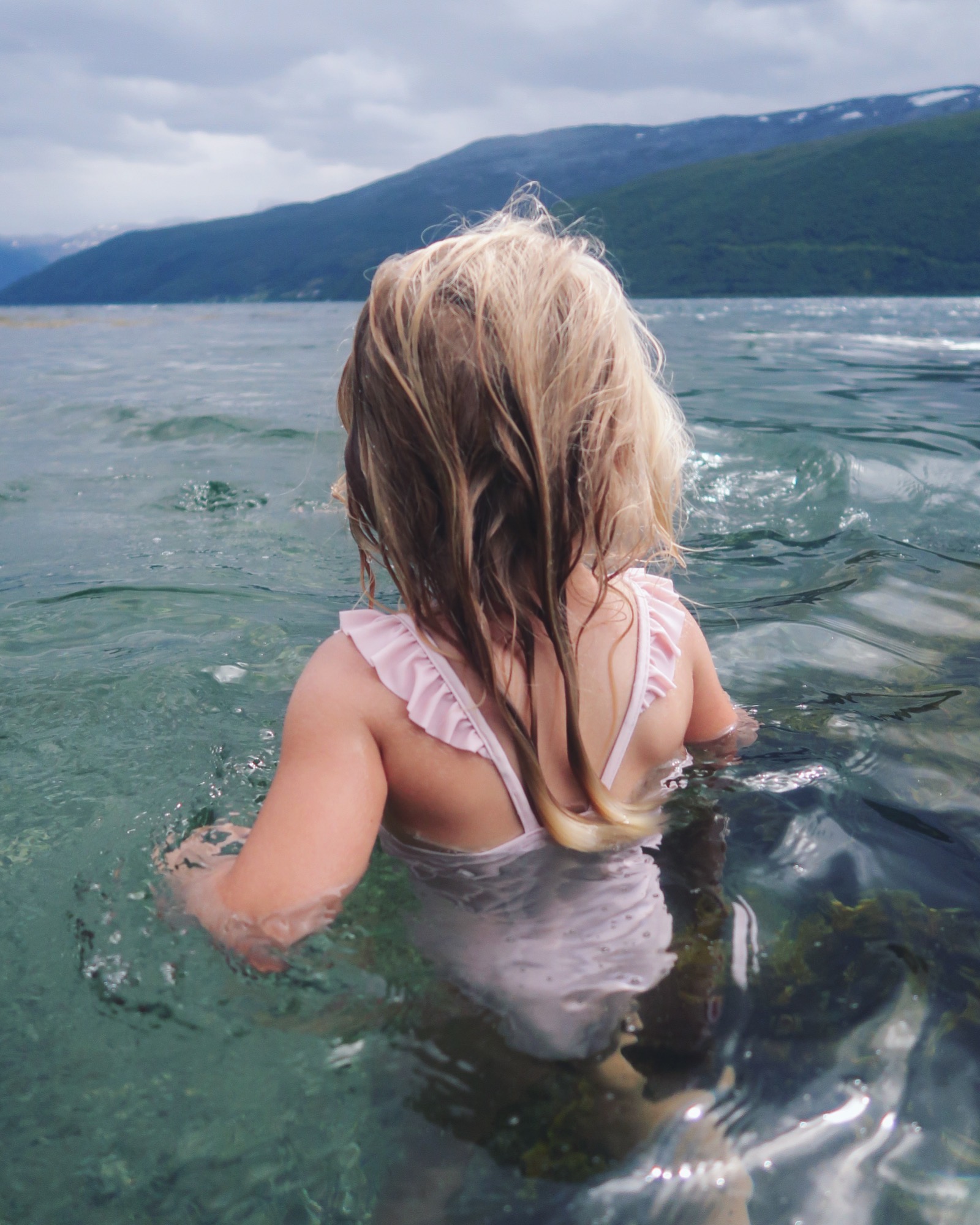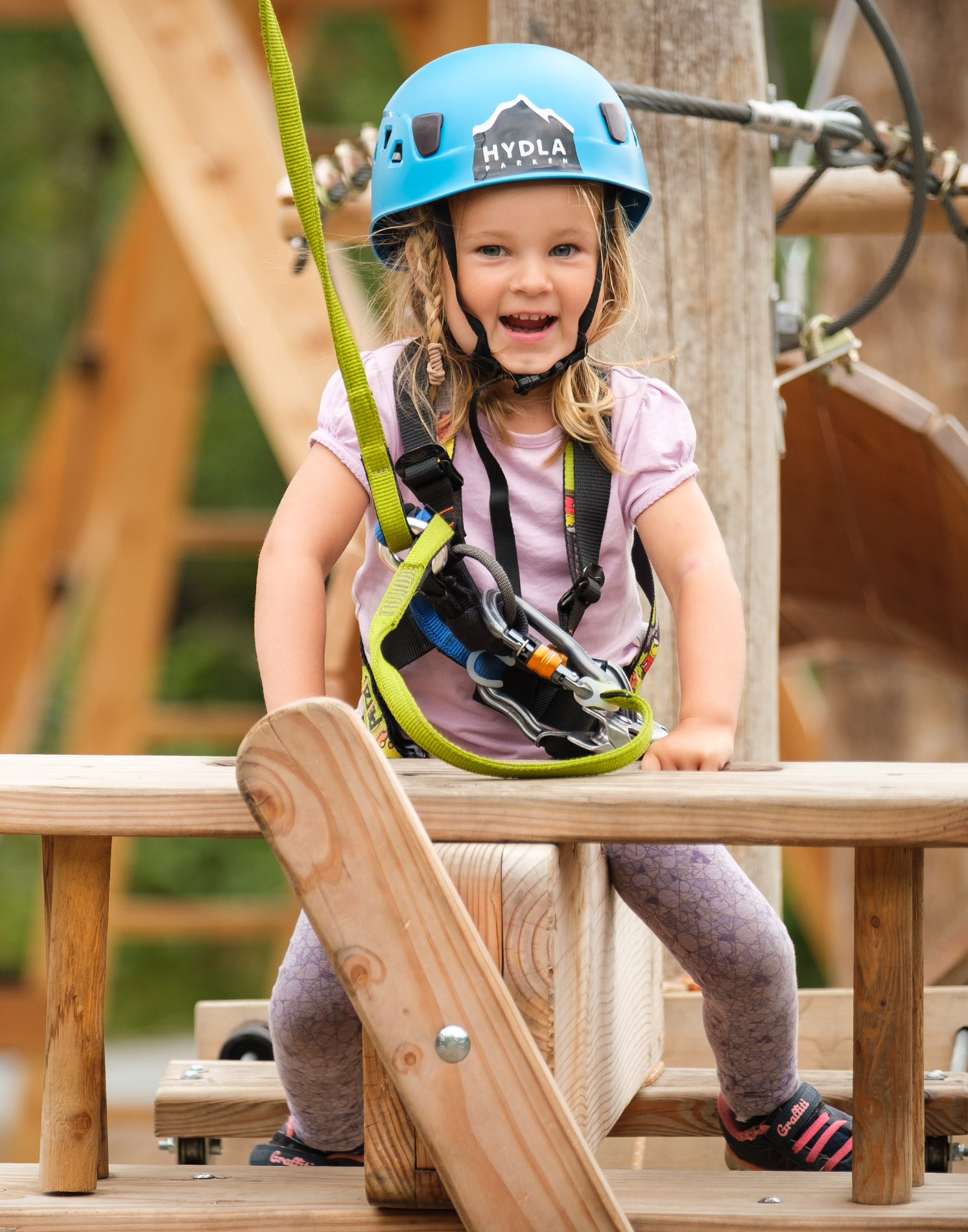 Climbing for children
Trivselshallen in Sandane has one of the biggest climbing walls in Western Norway, which is 15 metres at its highest point. However, there are also walls that are suitable for children who don't want to climb so high.
Hamna Aktivitetssenter is in Nordfjordeid and is an indoor bouldering hall. The hall is inspired by climbing on rocks outdoors and is perfect for children.
Hydlaparken is a climbing park in Stryn with seven different climbing trails with 11 ziplines and 58 obstacles. It has both simple trails for children, moderately difficult family trails and tougher challenges for older children. There is also a pumptrack for bikes.
Via Ferrata Loen in Stryn is another great activity for older children. You have to be 12 years old to do the Via Ferrata Classic (minimum weight of 40 kg).
Gym Stryn has a bouldering wall for all levels and ages. They make new routes every week to ensure there are always new challenges.
Kayaking
There are lots of fantastic kayaking options across Nordfjord. Many actors, including sports shops, accommodation providers and guiding companies hire out canoes and kayaks. Using one of the guiding companies is a good idea, both out of consideration for your safety and so you can experience lovely gems and secret places.
Norway Adventures offers a variety of trips that are adapted for families with children, some that take just a few hours and others that you can do over several days.
Briksdal Adventure also offers child-friendly kayaking trips, both on the fjord and on the lake in Oldedalen. Yri Outdoor hires out canoes for lovely trips on Oldevatnet lake.
Midtre Nordfjord Turlag (Trekking Association) has kayaking equipment in the Langedalen, Traudalen and Gjengedalen valleys, and at Eid.
In Gjengedalen (Sandane), you'll find the equipment in the boathouse at Gjengedalsstøylen summer pasture farm. In Langedalen (Sandane), the equipment you need is in the outhouse, while the kayaks are kept outside. Everything is kept in a boathouse in Eid. In Traudalen (Hyen), you'll find everything you need at a boathouse site near the road in Dalsbøen.
Foto: © Ruben Soltvedt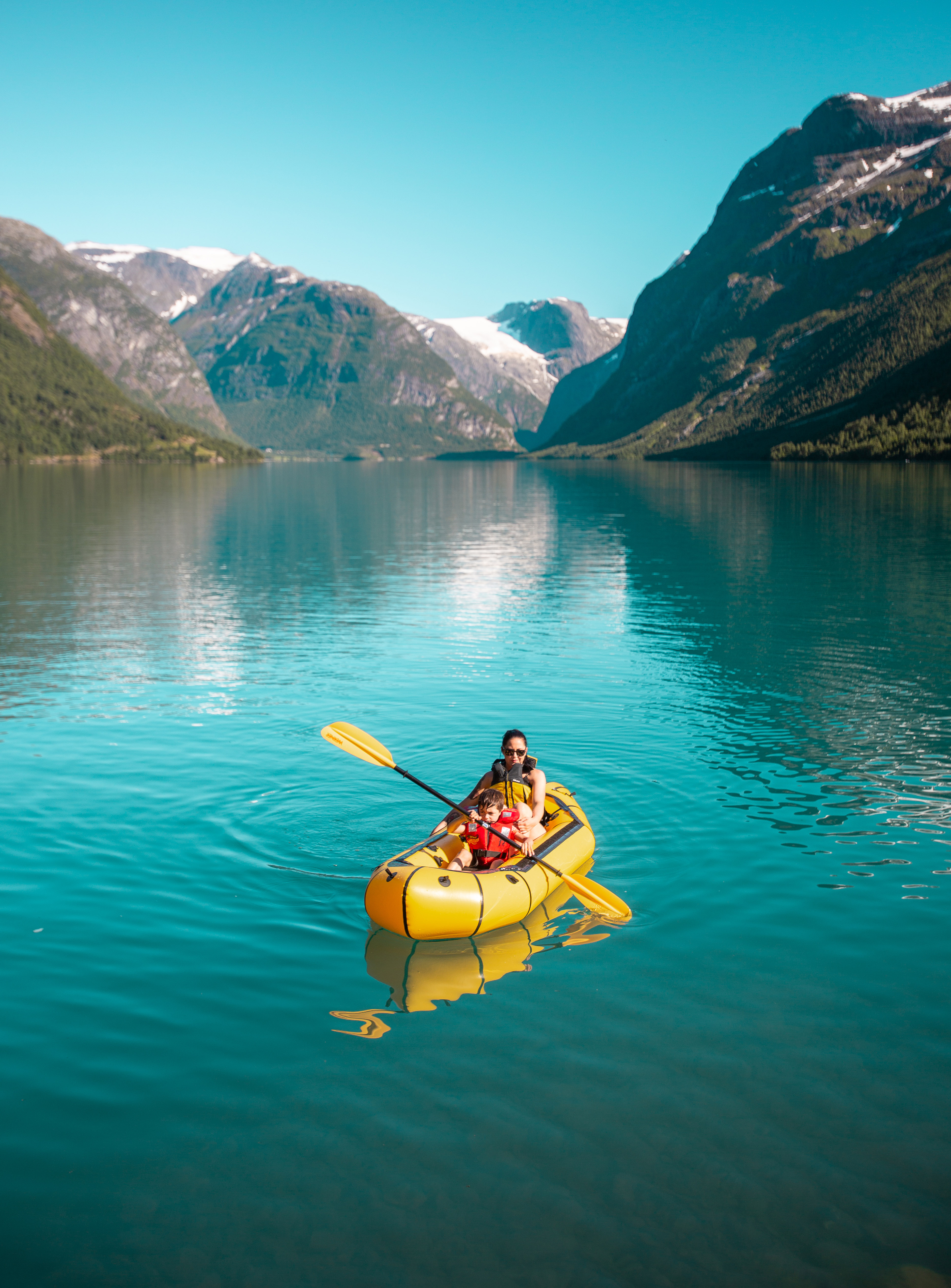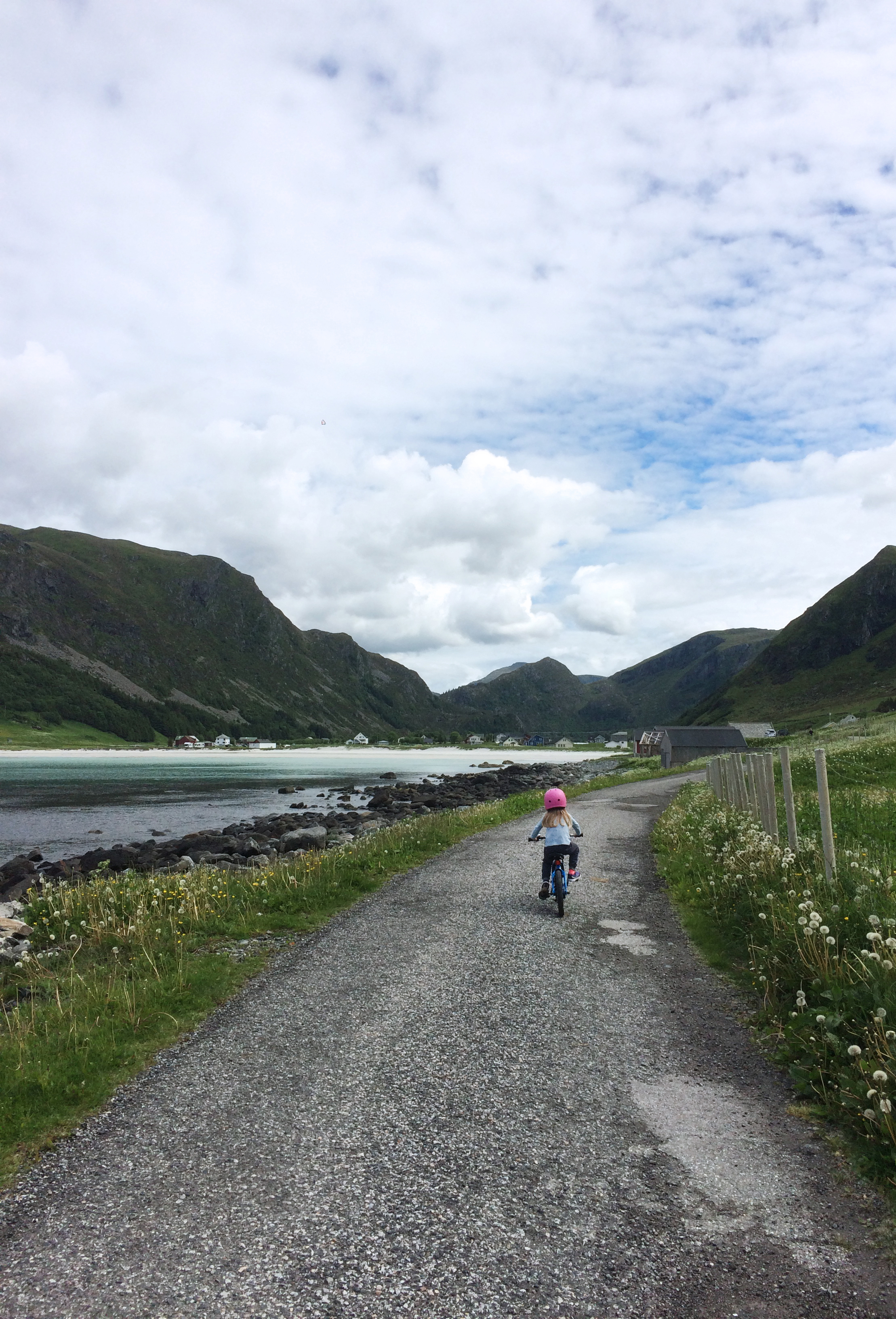 Boat hire and fishing
You can hire boats at several places in Nordfjord, and go fishing on lakes and on the Nordfjord itself. Ask your accommodation provider for more information.
Mountain biking
Many people associate mountain biking with steep and demanding hills. But Nordfjord also offers many less challenging and gentle options for the whole family.
Nordfjord Stisenter is in Sandane. The easiest trails are very suitable for families and beginners. You can advance to more difficult trails as you build up your confidence.
Sandane Pumptrack is beside the artificial grass pitch near the centre of Sandane.
Folven Pumptrack is situated beside Folven Camping in Stryn.
Harpefossen ski centre in Nordfjordeid becomes a biking destination in summer, and is great for both off-road and mountain biking.
Hydlaparken in Stryn also has its own pumptrack for bikes.
Foto: © Emma Midthjell Solibakke
Experiences for the whole family