Ten wild mountain trips
Up on the summits in Nordfjord. Set out on foot and explore the mountains at their best.
Tips to make it easier to choose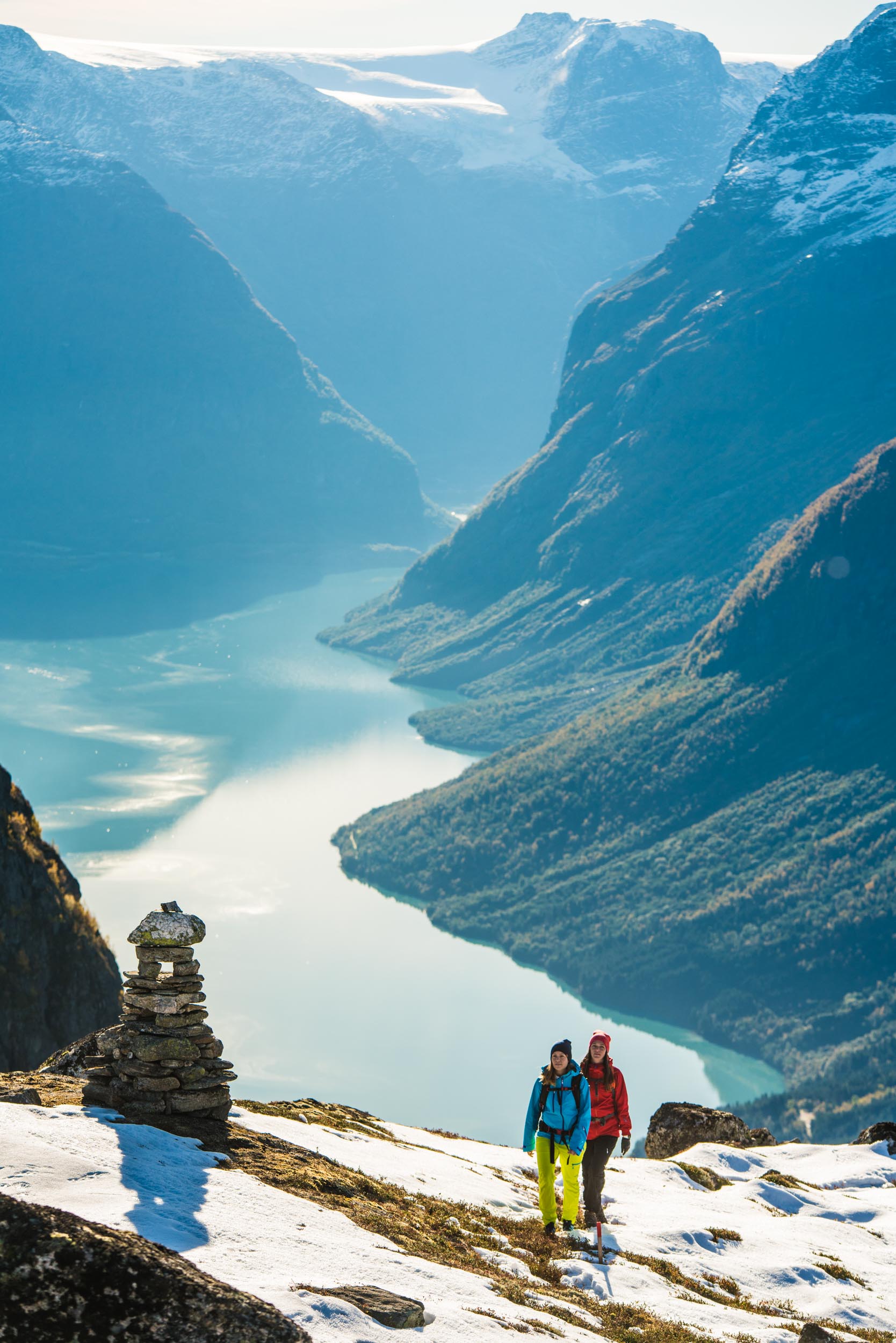 The people who live in Nordfjord have always headed to the mountains to escape the stress and hustle and bustle of daily life. And with good reason, as the mountains in Nordfjord are really exceptional. Breathing in fresh mountain air is the very definition of happiness for many Norwegians.
Nordfjord is made up of narrow valleys with waterfalls cascading down steep mountainsides and where mountains tower above lively green villages. The views are impeccable, across the green lakes, the deep fjord and the snow-capped mountains.
The mountains in Nordfjord are a powerful symbol and part of our national identity. The public right of way ensures everyone has the right of way on uncultivated land. Read more about the public right of way.
Summit tours
The mountains in Nordfjord tower up to heights of 2,000 metres, and there are innumerable summit tour options. Some of the area's most spectacular mountains are found in and around Jostedalsbreen National Park. We highly recommend bringing a guide with you on a tour, because they know where to find the best snow, the best summits and ensure your safety. The weather and conditions can change quickly in this part of Norway. Keep an eye on avalanche hazards! Check out varsom.no and talk to people with experience of the mountains.
A reminder of the Norwegian Mountain Code:
Plan your trip and inform others about the route you have selected.
Adapt the planned routes according to ability and conditions.
Pay attention to the weather and the avalanche warnings.
Be prepared for bad weather and frost, even on short trips.
Bring the necessary equipment so you can help yourself and others.
Choose safe routes. Recognise avalanche terrain and unsafe ice.
Use a map and compass. Always know where you are.
Turn back in time: sensible retreat is no disgrace.
Conserve your energy and seek shelter if necessary.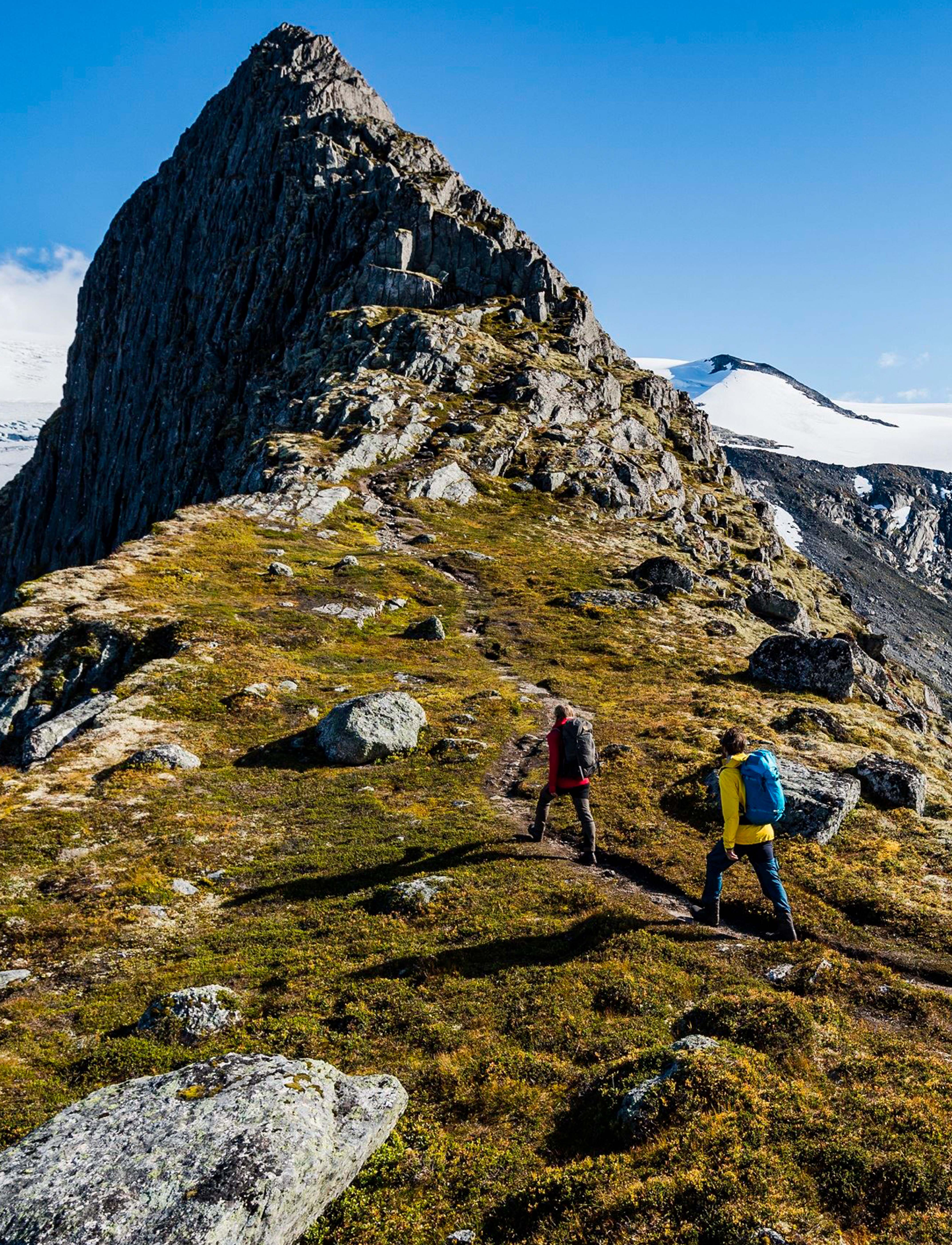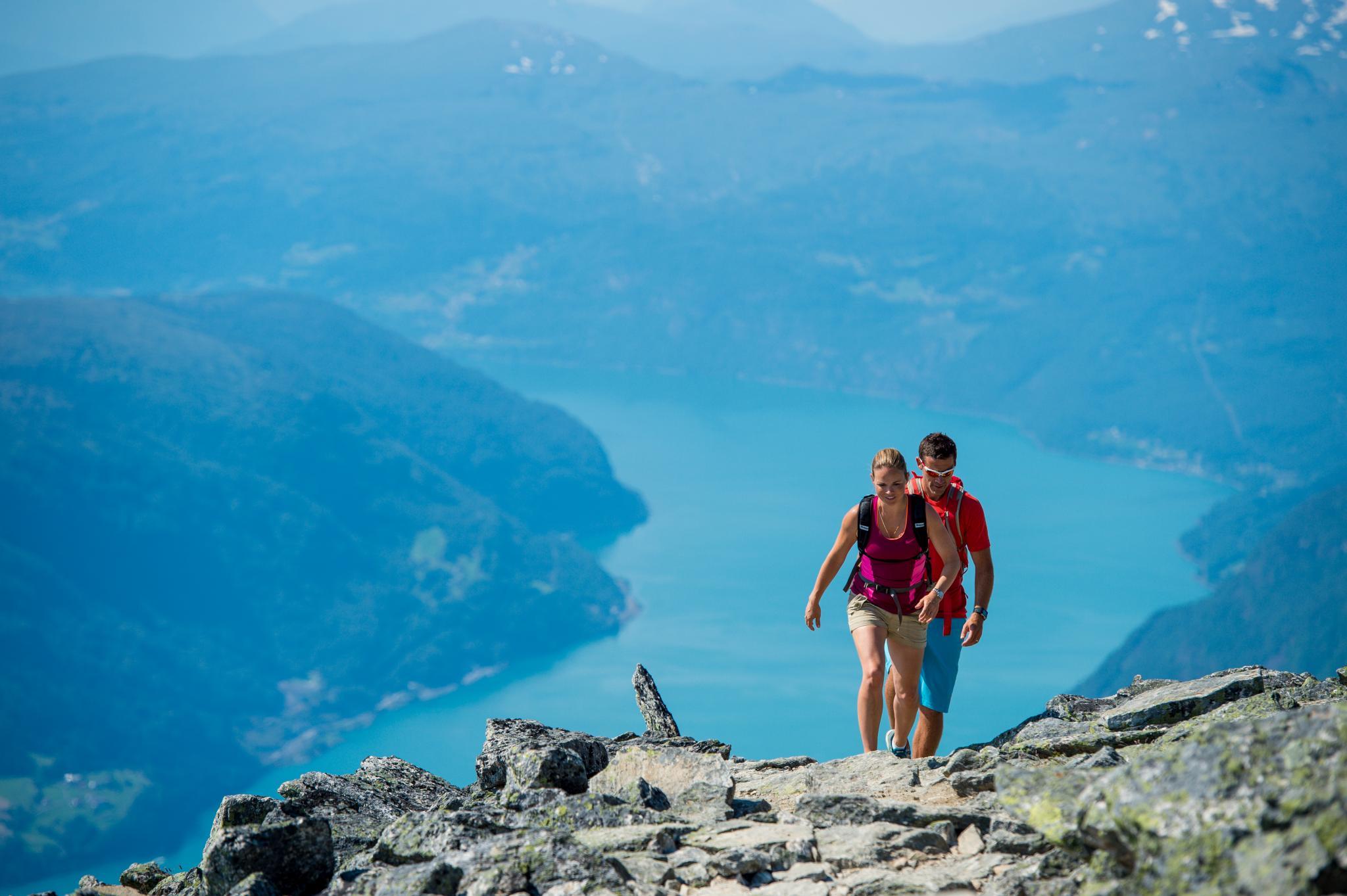 Vi har plukka ut dei 10 vakraste, villaste fjellturane i Nordfjord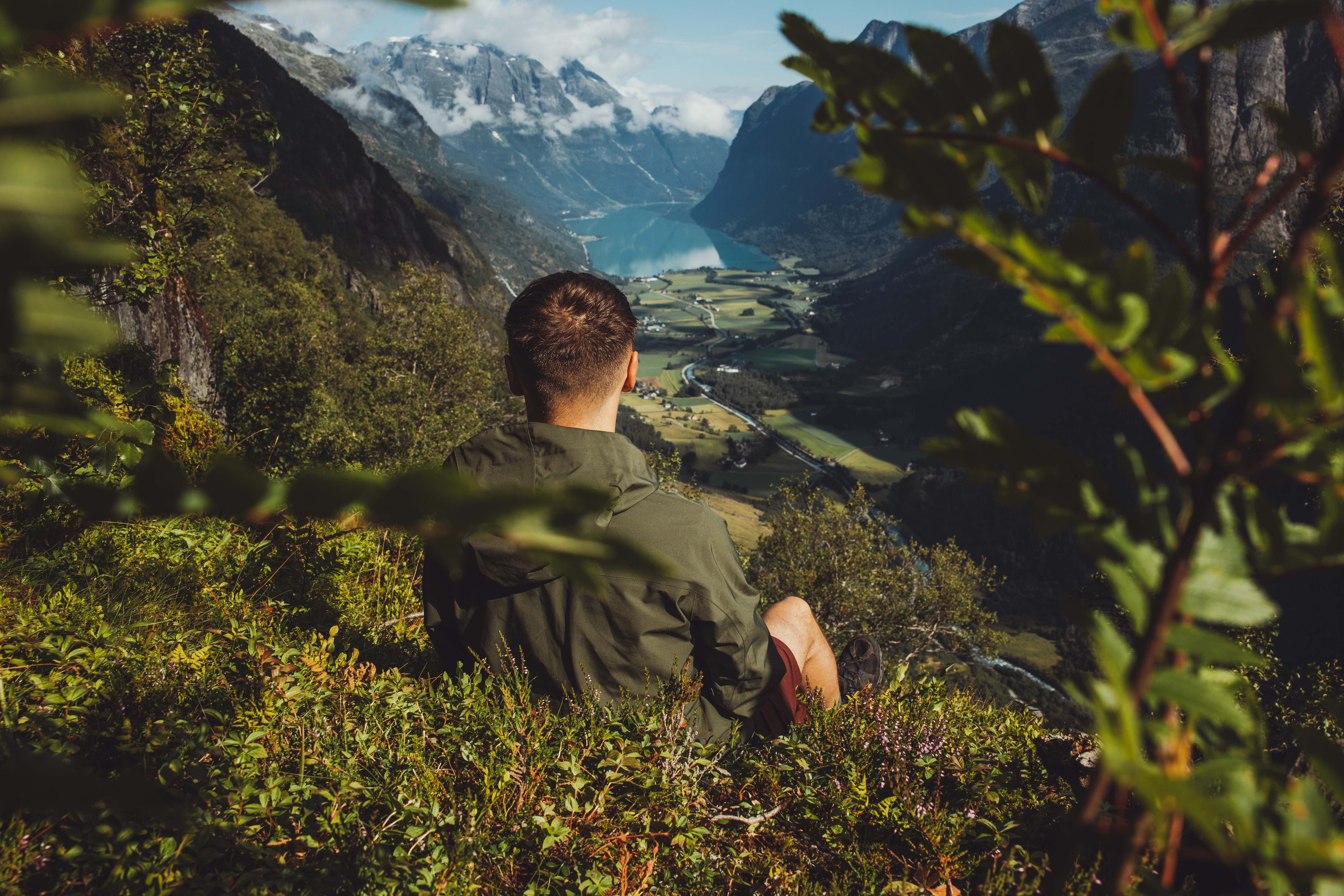 Vandring i Oldedalen
Oldedalen er eit ekte eventyr for dei som ønskjer vandring i storslåtte omgjevnader. I Oldedalen finst det turmoglegheiter for absolutt alle. Dalen ligg omkransa av høge fjell, fossefall og Jostedalsbreen Nasjonalpark. I dalen finn ein også det irrgrøne vatnet Oldevatnet, som er heile tolv kilometer langt. Her kan ein boltre seg med vannaktiviteter fra sola står opp til den går ned. I magiske Oldedalen finn ein fantastiske toppturar som Kattanakkjen, Klovane, Flatsteinbu og Oldeskaret. Les meir om Oldedalen - Den mest eventyrlege vandredalen i Norge.
Norges lettaste topptur
Ta Loen Skylift til topps og legg ut på tur i høgfjellet med opplagde bein. Gode stiar som er skilta og merka gjev tryggleik og energi til å oppleve høgfjellet. Avslutt fjellturen med eit måltid i Hoven Restaurant, og kanskje til og med ein solnedgong.
Fjellområdet rundt Hoven tilbyr eit rikt utval av turar med ulik vanskegrad og lengde. Turane varierer frå enkle gruslagde stiar til stiar i meir kupert terreng. Du kan gå på eiga hand, eller bli med på guida tur. Rundt 70 km med stiar er kartlagt frå Hoven, og arbeidet med å forbetre og tilrettelegge fleire av desse er i gong. Høg kvalitet og bærekraft er nøkkelord. Stiane er skilta og merka etter internasjonal standard. Frå Loen Skylift kan du til dømes gå til Skredfjellet, Staurinibba, Aarheimsfjellet og Rakssetra.
Sesong for vandreturar på Hoven er vanlegvis frå mai/juni  til oktober/november. Dette avhenger av når snøen kjem og reiser. Finn turbeskrivelsar.